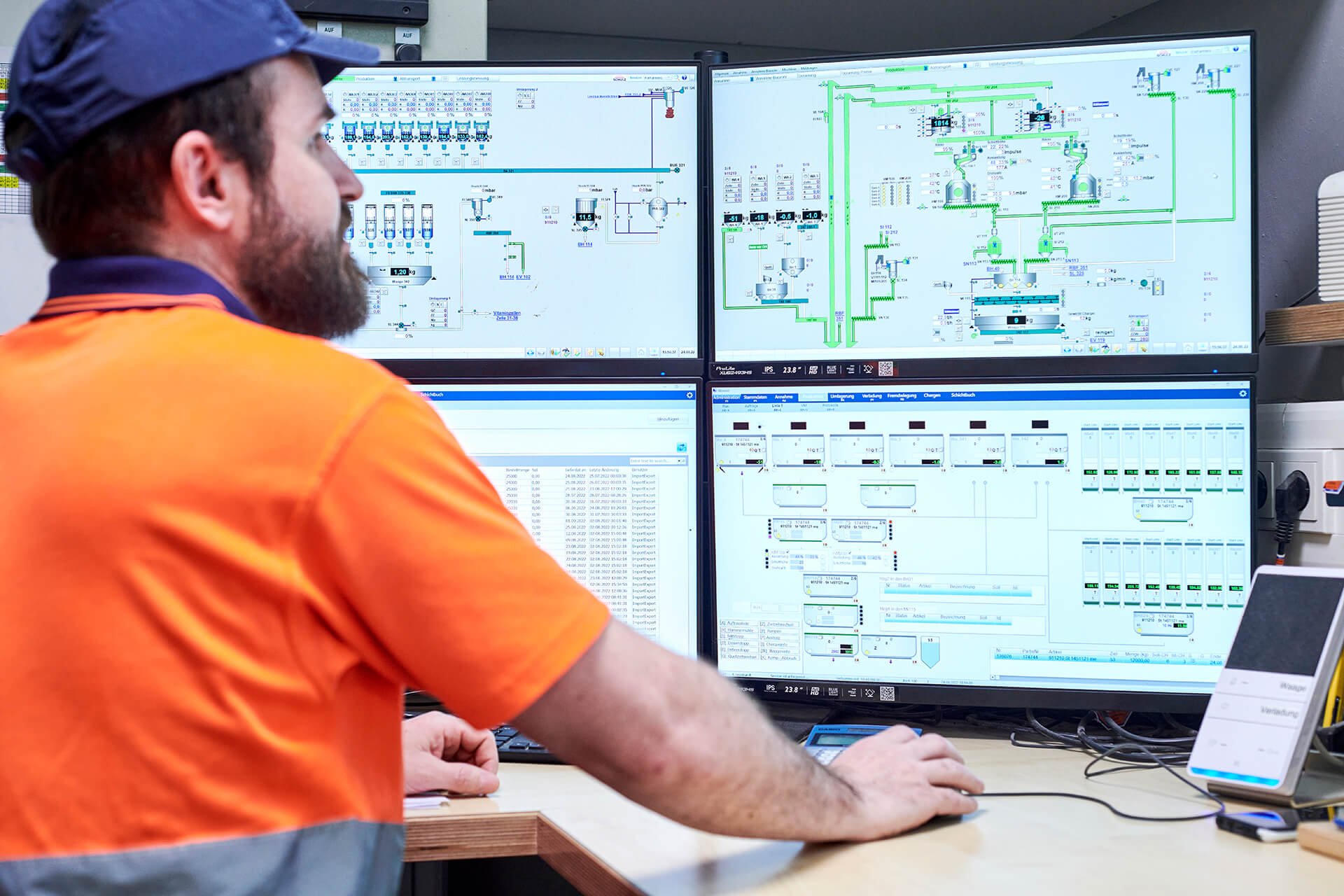 Process control system
With the SCHULZ productionstar® into the future
How to react in real time with our MES
Benefit from the many advantages of automation with the SCHULZ productionstar®. Our MES (Manufacturing Execution System) enables complete digitalisation of your production and thus stands for a new era. Also, because you can specifically select the modules for your company that meet your individual needs. Our portfolio is rounded off by various batch systems which are either based on technology from Siemens or Wonderware or have been developed completely in-house. Discover all the features of our process control system and the optimisation potential for your company now.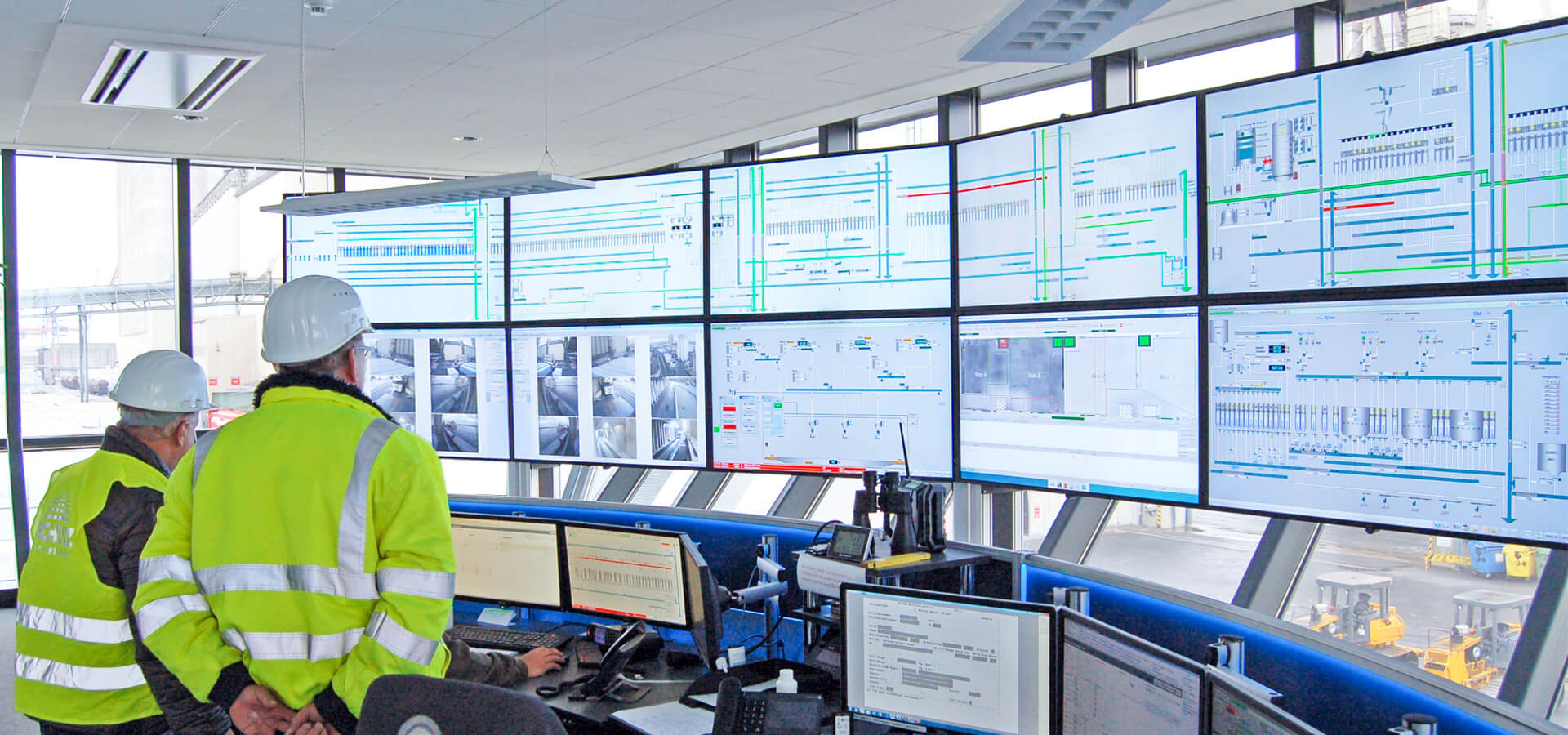 The advantages of our MES
Our know-how for the automation of process sequences is demonstrated in the SCHULZ productionstar®: the latest generation process control system minimises production downtimes, increases added value and ensures energy savings. However, this is only the tip of the iceberg of your possibilities in the age of digitalisation, because our MES is effective, simple and future-proof.
Effective
Smart evaluation, analysis and processing of existing data (big data-smart data generation)
Transparent production planning (data recording, analysis, optimization)
Optimized system availability thanks to preventive maintenance
Flexible production planning in case of last-minute changes to the orders
Operation via mobile devices possible
Single
Intuitive use thanks to self-explaining symbols
Quick search function for master data
Future-proof
Easy migration to the existing systems
Database independent
Modular systems with standard products and upgradeable expansion modules
High innovative strength through industry diversity and strong manpower
Continuous further development and regular updates of the modules
And that leads to the following tangible benefits for you:
Minimization of production losses by up to 10% thanks to continuous further developments
Up to 10%-increase in terms of added value thanks to targeted analyses and production planning
Reduction of lead times by up to 20 %
Up to 20% of energy costs savings
Short learning curve and no need for intensive training
Increased employee satisfaction
Higher return thanks to error minimization and reduction of rejects
Cost saving and investment protection as the system can be easily upgraded in case of new system requirements
The MES can always be adapted exactly to your needs by selecting the various modules, customising them and developing additional functions – precisely made to measure.
One production control system – many application possibilities
You benefit from the modular structure of our process control system, as it can be tailored precisely to your needs, similar to a modular system. You can choose standard components that we customise and integrate into your processes, but you can also have us develop specific functions and applications. Always with a focus on intuitive operation and a uniform operating concept. The integration of the individual components is perfectly coordinated. Here is our selection of modules:
Machine/operating data collection system: Permanent acquisition of all machine and operating data to continuously improve processes in real time.
Energy management: Combination of process data and energy consumption to plan optimal energy use and effectively reduce energy costs.
Traceability: Exact and complete preparation of all necessary information in compliance with all legal requirements for quality assurance.
OEE: Evaluation of the efficiency of the overall plant to identify weak points and possible strategies for optimisation.
Quality assurance: Management of all necessary data for quality management, including all raw materials, intermediate and end products as well as environmental samples.
SPC online: Automatic accompaniment and monitoring of the entire processes in the area of production.
Production planning: Listing of all orders from the ERP system and comparison of order quantity and actual stock, including customised production proposals.
Intralogistics: Manage all operations in the warehouse to increase efficiency and reduce storage costs.
Repairs: Consistent mapping, standardisation and optimisation of all maintenance processes of the entire infrastructure.
Order management: Control of production based on available resources and materials through a connection to the ERP system.
Materials management: For the management of all raw materials, products and all dosing and auxiliary materials in bulk material processes.
ERP Interface: The interface between Enterprise Resource Planning(ERP) and the process control system – for convenient communication.
Peak load management: Ensures automatic recording and control of the energy consumption values of all machines and systems and independently prevents costly power peaks.
IoT Dashboard: Visualisation of all necessary data in real time, including user and rights management for different areas in the company.
Commodity Planner: Planning of raw material procurement with a view to current orders and resources.
Thus, we cover all your processes in the area of production without any gaps. We are constantly developing the modules further. This way, regular updates always ensure that your system remains state of the art. The solutions we build ensure that your production processes are effective, simple and future-proof.
Do you have any further questions? Then contact us today.
We are here for you


Your contact options