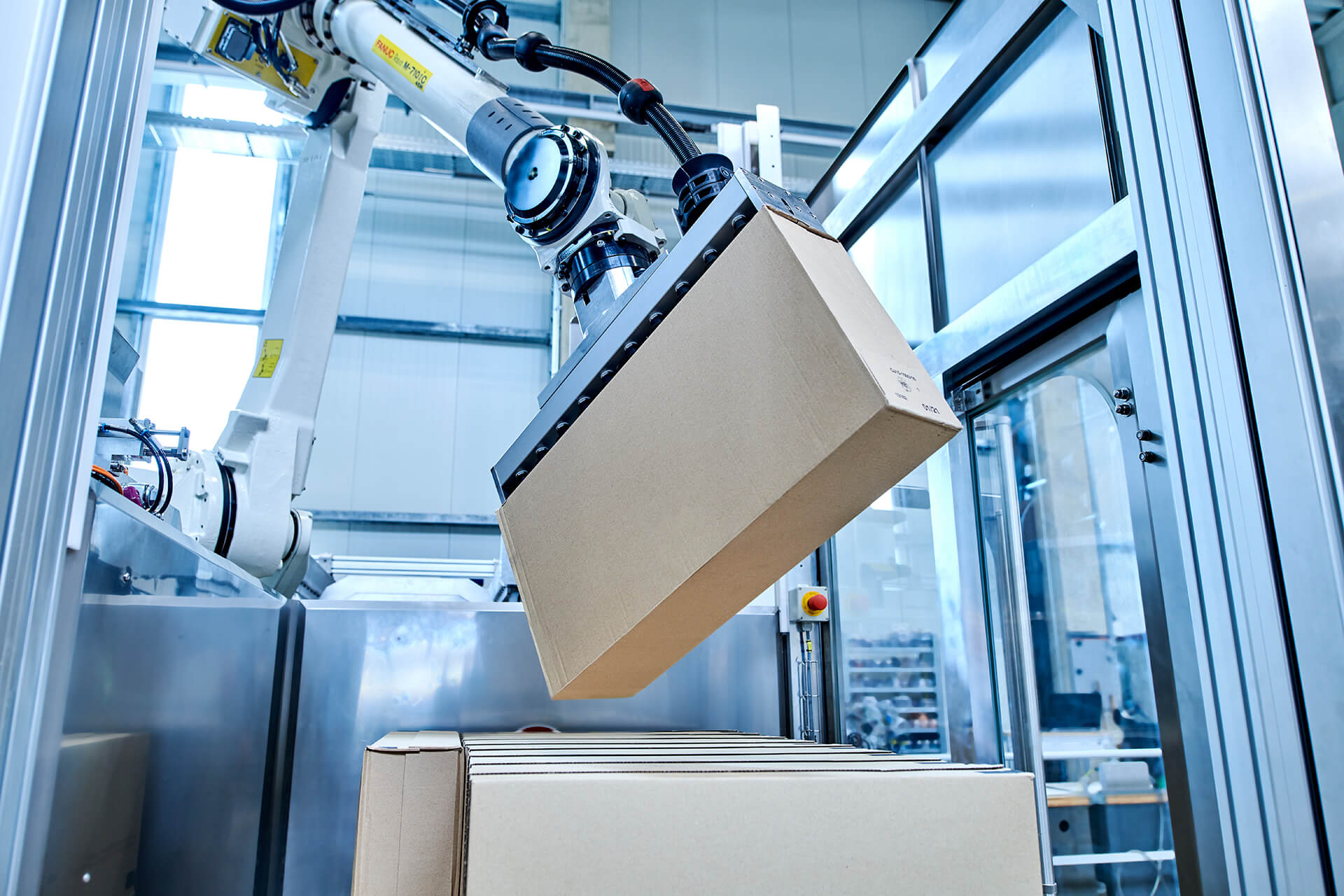 Handling and assembly systems
How your production runs smoothly and saves resources
Increase the efficiency of your production with the optimal assembly technology
Automated handling and assembly systems are worth their weight in gold. On the one hand, they ensure that your production becomes and remains flexible, economical and resource-saving. On the other hand, the material flow is also optimally integrated into the production process. Benefit from our experience and our individual solutions for optimal handling and assembly systems. Increase the efficiency of your production with automated systems for all work steps.
Your automated assembly system – for full flexibility and productivity
What do you benefit from with us in detail? An overview:
#1 Separation technique
Separation technology is an important task in the implementation of an assembly system. Whether it is the targeted removal of identical components from large blanks, the separation of chaotically sorted small parts or the separation of large components. No matter what the application: We can provide you with the perfect solution for your production processes. For this purpose, we use intelligent robotic systems or develop special systems for your production. For you, this clearly means: increasing capacities and greater flexibility.
#2 Screw systems
Screwdriving technology is an important technology, especially in automotive manufacturing. It is crucial that the variance is taken into account and that the bolting data is documented for quality assurance. With us at your side, you enjoy the following advantages:
Integration of screwdriving technology by well-known manufacturers
Fully automatic screwdriving
Integration of screwdriving systems
State-of-the-art robotics in the assembly process
#3 Assembly lines and stations
Assembly lines and stations designed down to the last detail: Approach the automation of your production with us. We plan and implement your plants tailor-made with a maximum of flexibility. We work out the whole process virtually. Through 3D simulation, we thus exclude errors in advance. The result: You benefit from intelligent control technology that ensures everything is in the right place at the right time and can be assembled. Fully automatic, smooth and fast. 
#4 Joining technology
There are various techniques and processes for this – depending on the requirements and use. We implement the most diverse systems for this task for you. Whether for gluing, welding, soldering, riveting, clinching or screwing: Count on reliability and efficiency with us. You will be rewarded with less maintenance and lower operating costs.
#5 Adhesive systems
With a clever gluing system you save effort, time and personnel. Our systems, specially developed for this task, optimise your operational processes, reduce your costs and, on top of that, noticeably increase the motivation of your employees. This is what awaits you with us:
Disc installation: Fully automatic installation of front and rear windows
Installation of sliding and panoramic roofs: For this task, we use robot technology, screwing and bonding systems in combination
Spare wheel well and DVD elements
#6 Welding technology
Various welding techniques are used in industrial production technology: Either for the non-detachable connection of components or for coating. We implement fully customised systems for you via our innovative 3D engineering – for maximum efficiency. Do you want a manual, semi-automatic or fully automated system? Together we develop the solution that is best suited for your business.
#7 Greasing or oiling systems
Incorrectly dosed or incorrectly applied greases, sealants and silicones have a direct impact on the quality of your products. We develop systems that perform this demanding task reliably and purposefully. In this way, you ensure the service life and quality of your products. We implement systems for surface, contour and dot application for you and integrate them precisely into your production process. For safe and economic production.
#8 Filling technology
There are many systems for the filling of liquid and gaseous media in the automotive sector. Let us advise you professionally on the optimal design of the control sequences – and make your production labour-saving, safe and fast.
Our programmes provide optimal processes for all media control:
Brake fluid, coolant, washer fluid, transmission oil
Air conditioner, air spring
Fuels, AdBlue (Diesel Exhaust Fluid)
That's what you get from us:
Line filling system (on-line) with up to 5 filling heads
Compact and rework systems
Vehicle communication CAN and PWM
Maximum safety with regard to explosion protection
#9 Stamping technology
As a stand-alone or part of an overall solution: Take your stamping technology to the next level with our innovative solutions. Here, too, we work with the latest 3D technology, which significantly speeds up commissioning.
#10 Labelling system
Intelligent control solutions ensure that label printing and automatic application are precisely coordinated. Improve your processes, speed up operations and reduce errors with a fully automatic labelling system designed by us.
#11 Hot stamping systems
We develop smart hot stamping systems for you. For example, for product labelling, where particularly high-quality printing results are required. Our systems are suitable for almost all materials such as cardboard, paper, plastic, films and textiles. Talk to us – we will be happy to advise you on this.
Handling Systems: Get your material flow moving
In a fully automated process, handling systems ensure a smooth material flow. What can you expect when working with us? On the one hand, we equip robots for the required tasks with specially adapted tools for product handling, pick & place, order picking, unloading and loading or tool change. We also automate handling systems that do not use robotics.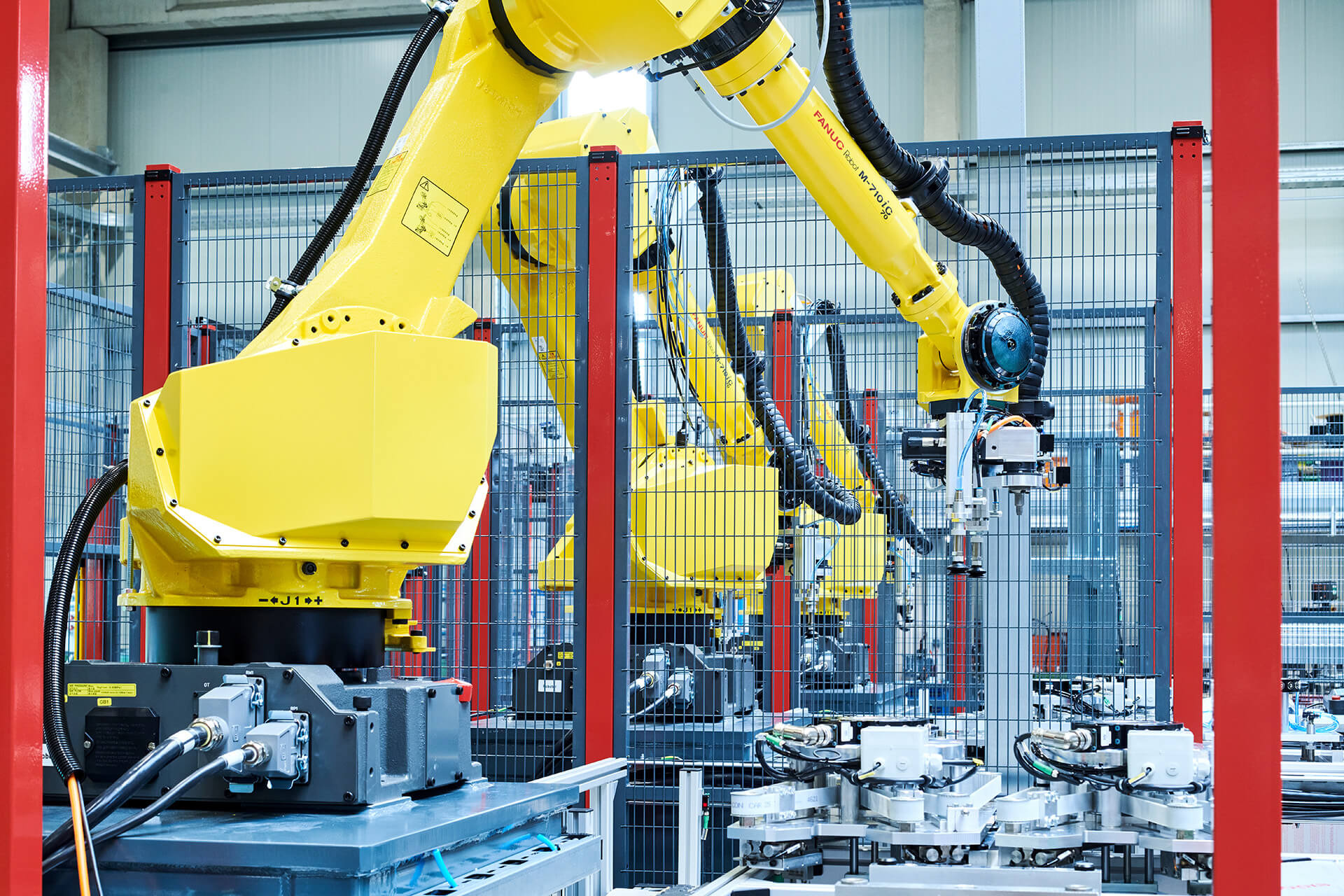 Our services in detail:
#1 Packaging systems
Changing packaging designs and an increasing variety of products require a high level of automation. Whether for the assortment of glasses, bowls or cans, whether for film packaging, cardboard packaging or individual packaging solutions: We offer reliable systems for a wide range of tasks. This gives you a decisive competitive advantage.
#2 Palletising systems
Industrial robots are usually used for this purpose. In order to optimally integrate palletisers into your processes, we analyse your operational processes and then develop a customised solution. For you, this means: increased throughput, more efficiency and lower operating costs.
#3 Removal systems
In order for the removal to function automatically, we usually rely on robotic technology. This increases the flexibility of the system – so it can be used in different places.
#4 Positioning systems
For the optimal positioning of workpieces or tools in machines and technical equipment, we offer various systems: from linear systems such as cross tables and gantry systems to rotary and circular tables. We supply three-axis positioning systems for flexible movement of objects in space or use intelligent camera technology to easily determine the correct position.
#5 Cranes
Whether bridge, container, slewing or gantry cranes – we automate your crane system and provide support for crane construction, assembly, dismantling, conversion as well as repair, maintenance and service.
We integrate crane systems precisely into your processes and operations. In addition, we not only take care of the programming, control and visualisation for you, but also the drive technology.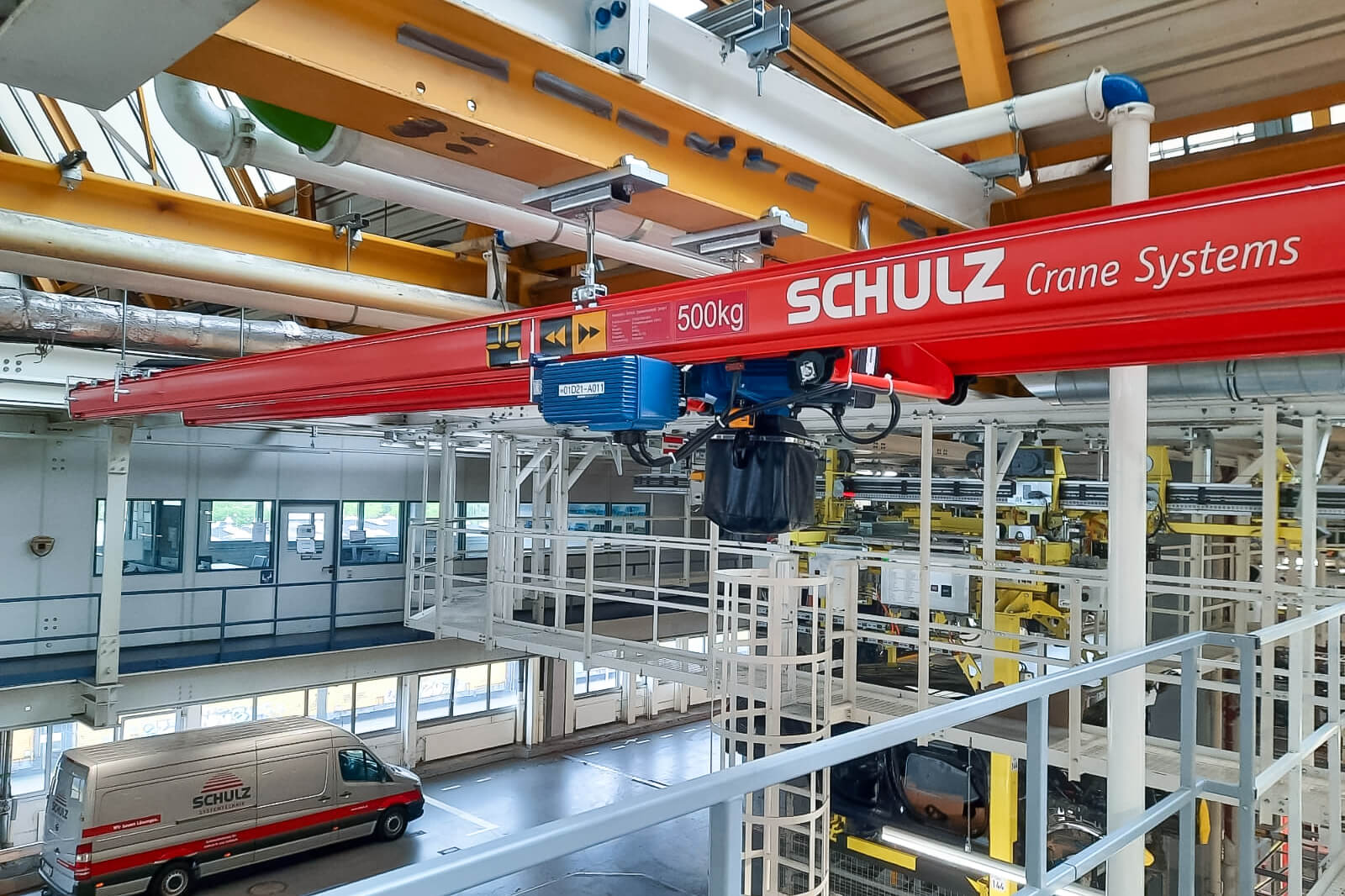 Do you still have questions about the handling or assembly systems? Would you like to learn more about SCHULZ ? Arrange a consultation now!
We are here for you


Your contact options