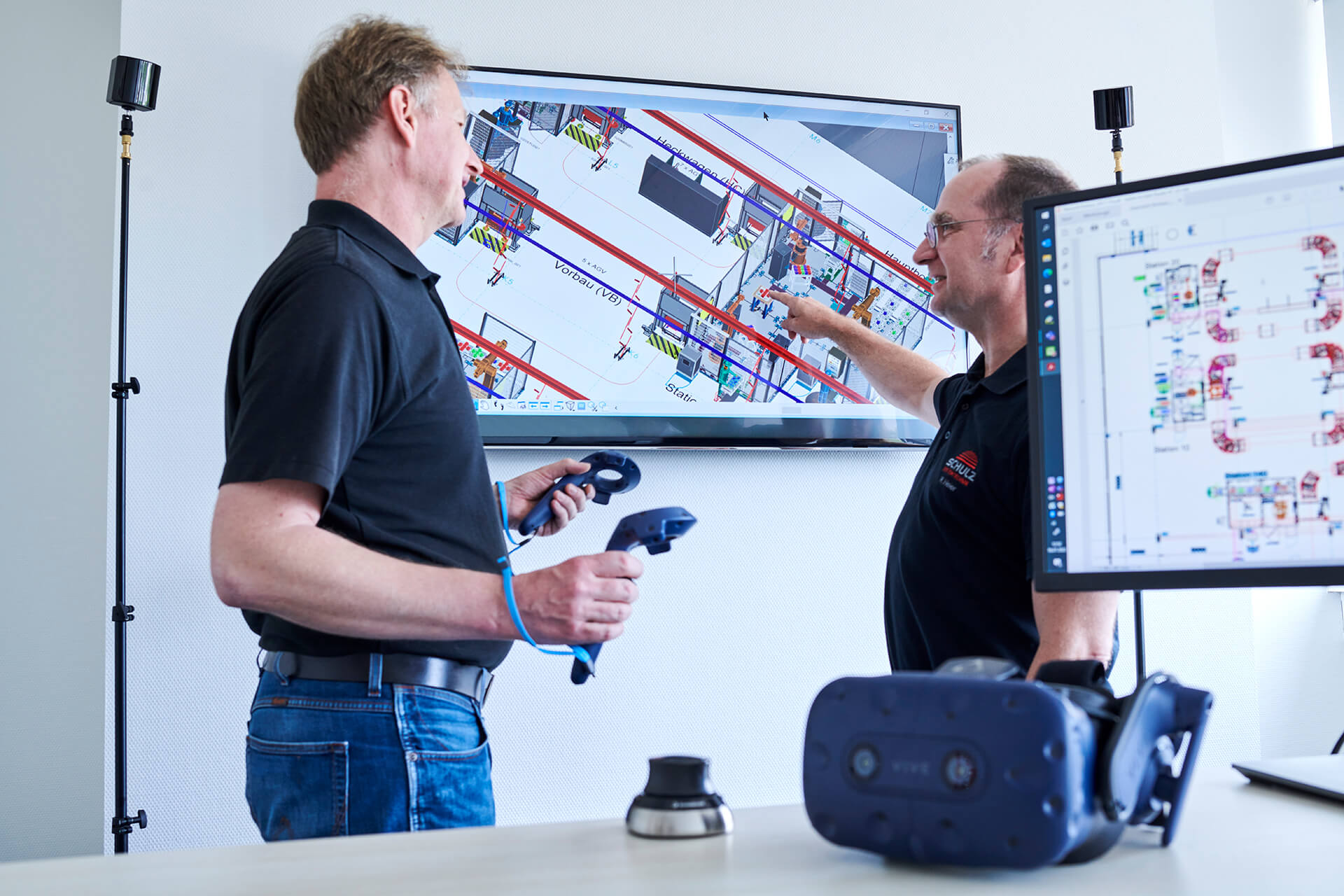 Digital Factory Planning
How to save time and money
How intelligent methods in engineering show you the way
With digital factory planning, you systematically expand your competitive advantages. SCHULZ Systemtechnik provides you with various methods for this purpose. This includes 3D planning, simulation and virtual commissioning. This brings you efficient, flexible and future-proof manufacturing systems. The digital factory is completed by product lifecycle management (PLM), in which products and their production are considered over the entire lifecycle.
Up to 40 %: Save time with digital factory planning in PLM
A central theme of Industry 4.0 and IIoT (Industrial Internet of Things) is the consideration of a product throughout its entire life cycle. Because this gives you a clear cost advantage and saves you a lot of time: up to 40 % in a project implementation. This is achieved through shorter project lead times, fewer interfaces and higher data transparency. Efficient arrangement and connection of the three automation fields is the key: Mechanics, Electrical engineering and Computer science. We link them digitally. The development steps of a product thus become transparent and fully traceable because it carries all the information within itself and it tells machines by itself which work steps need to be carried out. Products that are aware of their own life cycle will be able to arrange their own maintenance or disposal in the future. Pure efficiency.
Using simulation to find errors before they happen
SCHULZ Systemtechnik accelerates the implementation and minimises the error rate of your systems. For: The three disciplines of automation technology (mechanics, electrical engineering, computer science) work in parallel with us – thanks to virtual simulation. This makes the entire system available to you much more quickly. In addition, the digital mapping makes possible alternatives and optimisation potential visible. Virtual commissioning is also available. The system and product behaviour is simulated down to the smallest detail within the 3D model. Only when everything is right and all errors have been ruled out does it go on to the real commissioning, quickly and smoothly. For you this means: You save a lot of time and money.
Optimise factory production with process simulation – even for conversions
The digital factory is the virtual representation of your production facilities and shows alternative manufacturing processes and optimisation potential in the area of production technology. You have an overview of all the objects in the factory as well as their mutual interactions and relationships. We safeguard your processes and accurately predict the effect of changes on cycle time. The required energy input and necessary maintenance also become visible and can be planned in advance.
SCHULZ Systemtechnik solves this with innovative industrial software for object digitisation that interlinks all steps of the value chain. Process simulation is by no means only worthwhile for new plants and systems.. The virtual replication of an existing production site also holds a lot of potential, insofar as major conversions are planned. Because process simulation in engineering avoids errors and reduces costs. Through this approach, you benefit from a considerable gain in time. Simply because real commissioning runs much faster.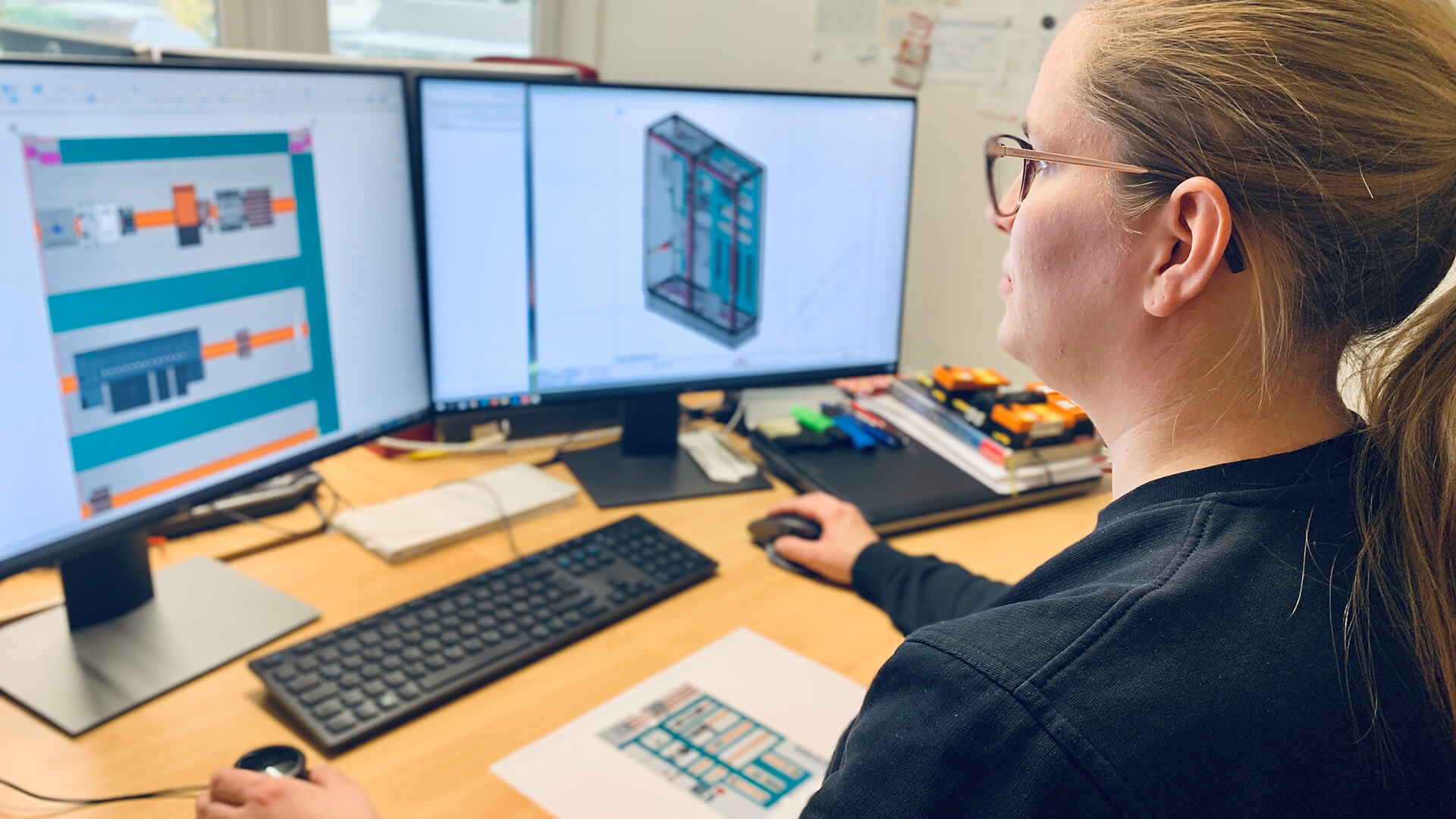 We simulate with robots and avoid bottlenecks in your production
Increasing planning and product quality and minimising risks at the same time – this is possible with robot simulation. Thanks to the realistic simulation of the robots and tool systems, we can provide you with a well-founded proposal for optimisation even before the conversion takes place. In this digital environment, we can also position people and machines and see how they act with each other. We optimise automation processes in advance and detect process errors or bottlenecks before they actually occur.
Simulate logistics and material flow – continuously and in real time
Your profit will only increase sustainably if you also exploit the efficiency of production and logistics. That is why we simulate your material flow in production and assembly processes, in maintenance and repair processes, as well as in warehouses or workshops. And not only during the planning of new plants, but also during commissioning, ongoing operation and for modernisation measures. In this way, we optimise efficient management throughout. Combined with our process control technology, optimisations can even take place in real time. This effectively saves resources.
Digital factory planning and your advantages at a glance
You can achieve this in detail with the help of digital factory planning:
Productivity increase by min. 10 %
Optimised processes
Reduced production costs
Reduced time to market by min. 60 %
Optimal use of space
Improved production times
Detecting process errors in advance
Reduced costs by min. 40 %
You see: SCHULZ Systemtechnik only builds solutions from which you will also benefit in the long term. Are you interested in growing even faster? Then contact us today.
We are here for you


Your contact options