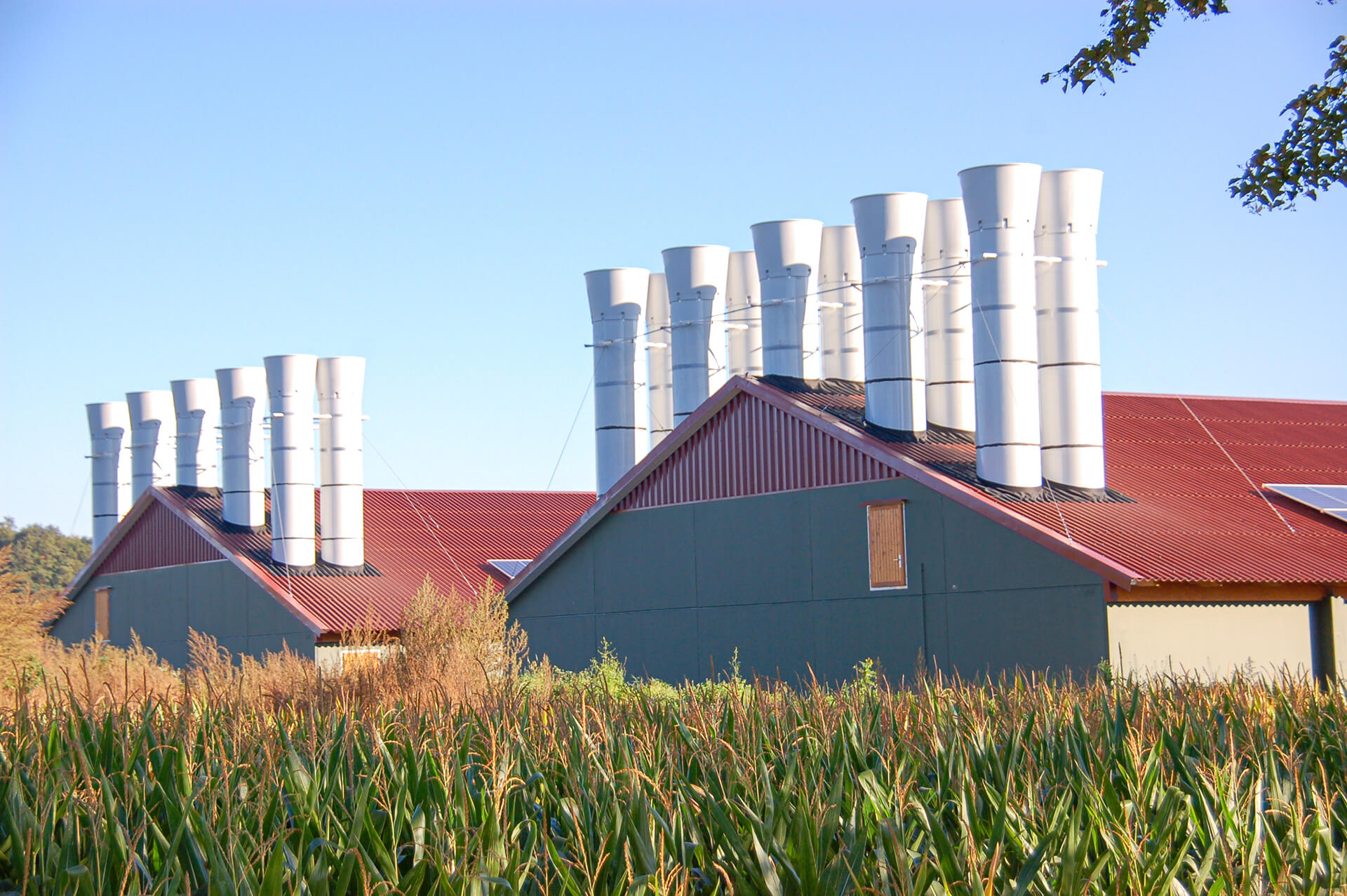 Air conditioning systems
Reliable cleaning, ventilation and cooling for industry and agriculture
Fewer emissions, good climate: We know how to do it
Decades of experience in the field of air conditioning and air purification systems make us a pioneer in this technology. In order to be able to produce with legal certainty, to ensure sufficient immission control and to speed up the necessary approval procedure, you need reliable air conditioning technology today.
We will gladly take care of that for you! SCHULZ offers exhaust air scrubbers for a wide range of industries: for agriculture and the food industry, the chemical industry, for slaughterhouses and processing plants as well as fermentation residue drying and biogas plants. Our air conditioning systems at a glance:
EMMI Emission Minimizer for the industry
We are your expert when it comes to clean to the air. For the industrial sector, we offer the installation of various EMMI Emission Minimisers.
Depending on the requirements, a wide variety of substances must be removed from the air extraction, including dusts, odours, germs or harmful gases. A heavy-duty process exhaust air flow, for example, must be treated differently than room air extraction. We will develop an individual EMMI Emission Minimizer for you that fits your application perfectly.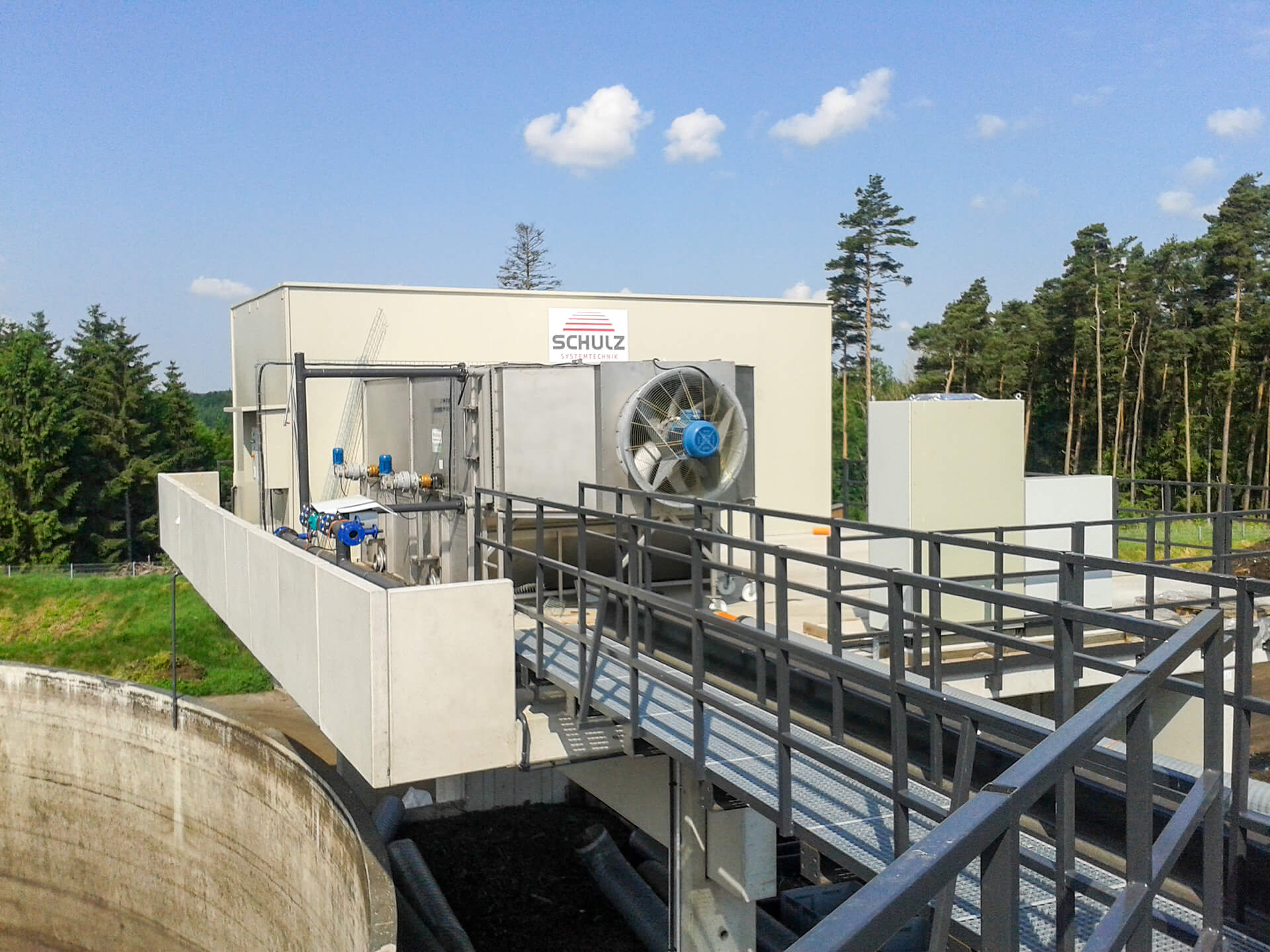 Benefit from our specialisation in particularly energy-efficient cleaning systems. These stand-alone systems are highly reliable. Regular support and maintenance after installation by our technical staff – also through location-independent support – will ensure you a high level of operational reliability.
EMMI Emission Minimizer: With SCHULZ from a single source
Monitoring of the approval procedure
System planning
Mounting and installation of the system
Commissioning
Training
Maintenance
Cleaning performance: Depending on the requirement, for example
• At least 95% NH³
• At least 95% H²S
• Less than 500 GE/m² (no raw gas smell perceivable)
EMMI Emission Minimizer for your poultry farm
Air conditioning plays a major role in the approval of barn systems. Ease the strict approval process by investing in an innovative air purification system from SCHULZ. In fact, not only does a system of this kind provide an extraordinarily effective method for reducing ammonia, dust, germs and odours: it also reduces complaints from neighbours and contributes to the protection of the environment.
Ensure a good climate in the barn and less effort for your employees with our DLG-certified EMMI Emission Minimizer – thanks to automation, air purification is self-sufficient to such an extent that the tasks to be performed are reduced to a minimum. At the same time, deposits can be completely prevented by the automatic cleaning of the droplet separators during the entire mast run.
Another advantage: Due to the clean droplet separators, the pressure loss in the air purification system is reduced, thus simultaneously reducing the germ discharge from the barn.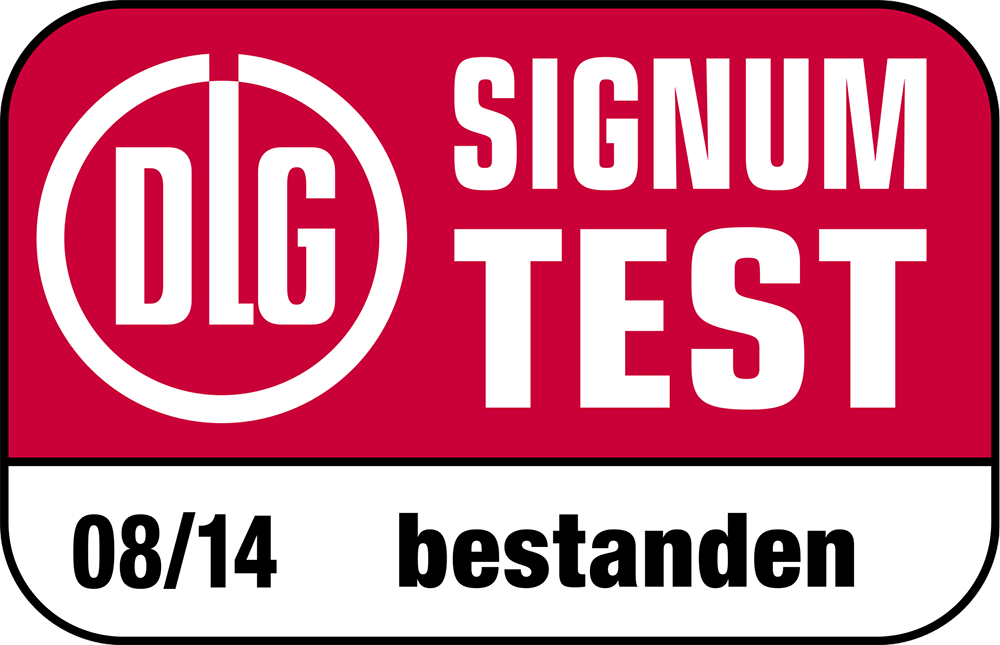 We were the first company on the market to pass the DLG-Signum Test for poultry fattening and thus already fulfil the future requirements of the European BAT Directive.
Cleaning performance:
At least 90% NH³
At least 70% dust
At least 90% fine dust
At least 50% odour
EMMI PIG – EXHAUST AIR CLEANING FOR YOUR PIG FARM
Exceptionally high filter performance on the smallest surface area: more efficiency for farming
You can benefit from our efficient and reliable exhaust air cleaning systems also in professional pig farming. Our latest highlight is EMMI Pig – an exhaust air scrubber that we have developed especially for pig farming systems using no floor litter.
The system is a two-stage exhaust air scrubber operating wet chemically and using acid as well as downstream bio-scrubbing to remove dust, ammonia and odour by means of overhead ventilation. Downstream of both cleaning stages, a droplet separator minimises aerosol discharge during exhaust air cleaning as well as reducing germ discharge from the barn.
Leveraging its uniquely high filter surface load of 5,000 m³/(m²h), EMMI Pig boasts impressive performance. As a result of this, the system features an extremely compact, space-saving and flexible design. In this way, one can significantly reduce investment costs and enjoy greater cost-effectiveness and efficiency.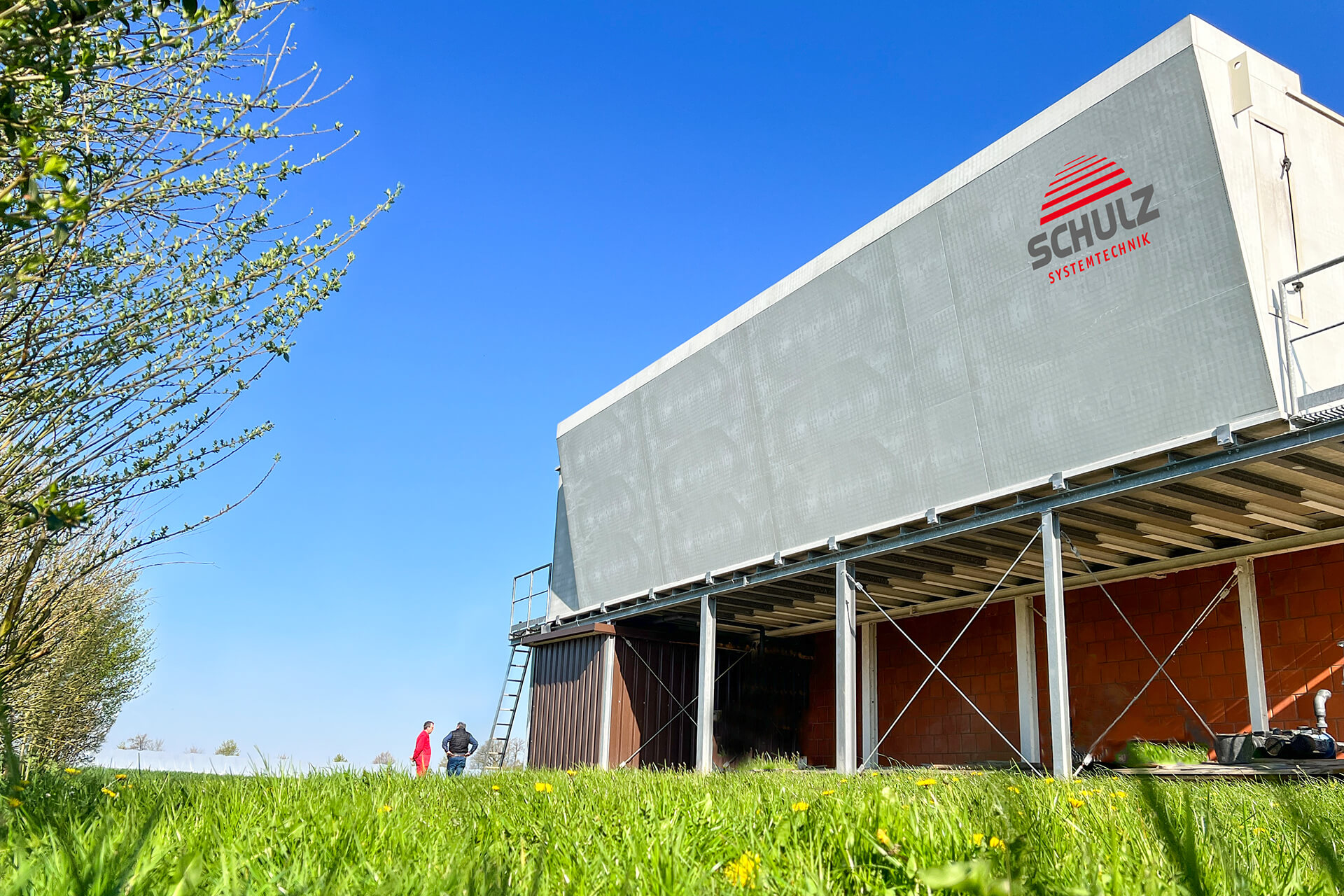 HOW IT WORKS:
Exhaust air is extracted by fans from the stable compartments and pressed evenly through the air scrubber. To do so, the air scrubber operates fully automatically. In the first step (chemical step), the stable air contaminated by ammonia and dust is cleaned by means of an "acidic" wash (sulphuric acid). The odorous substances are removed in the downstream second stage (bio-stage).
Therefore, the cleaning performance achieved accounts for
at least 86% and 80% as to ammonia (NH³)
and dust respectively,
with odour minimised to below 300 GE/m³, no perceivable raw gas smell in clean gas
and the benefit of very low amounts of wastewater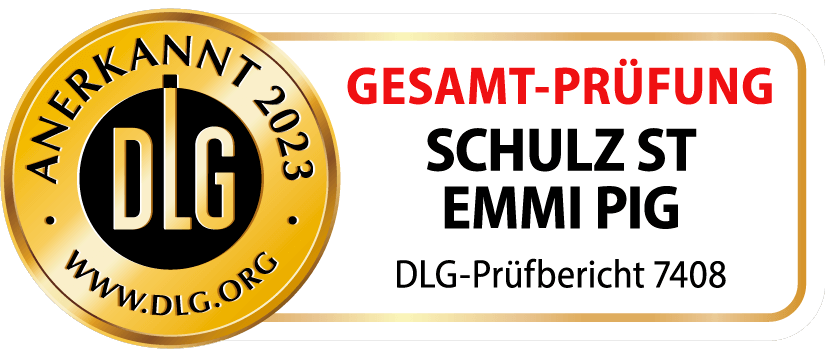 Our exhaust air cleaning system "EMMI Pig" is suitable for reducing emissions of dust, ammonia (including nitrogen removal) and odour in the exhaust air flow from pig farming systems with no floor litter by means of overhead ventilation.
Upsides in detail:
Customised construction designs tailored to animal numbers (containers also available)
Clear description of plant operation through electronic operating logbook
Low pressure losses through fluid-dynamically optimised exhaust air ducts
Remote queries and remote maintenance are possible
Use of proven industrial components
Low volumes of wastewater resulting in reduced transport and storage costs
Use of water containing ammonium sulphate (A SL) as a high quality fertiliser
Reduction of energy costs as a result of outstanding system management
Custom-tailored design and thus investment cost abatement
Minimised service costs thanks to high operational safety
Less intensive maintenance
Further air purifiers for pig farming
The following exhaust air purification systems for pig farming complete our broad portfolio of DLG-certified systems.
Exhaust air scrubber Chemo+ 5880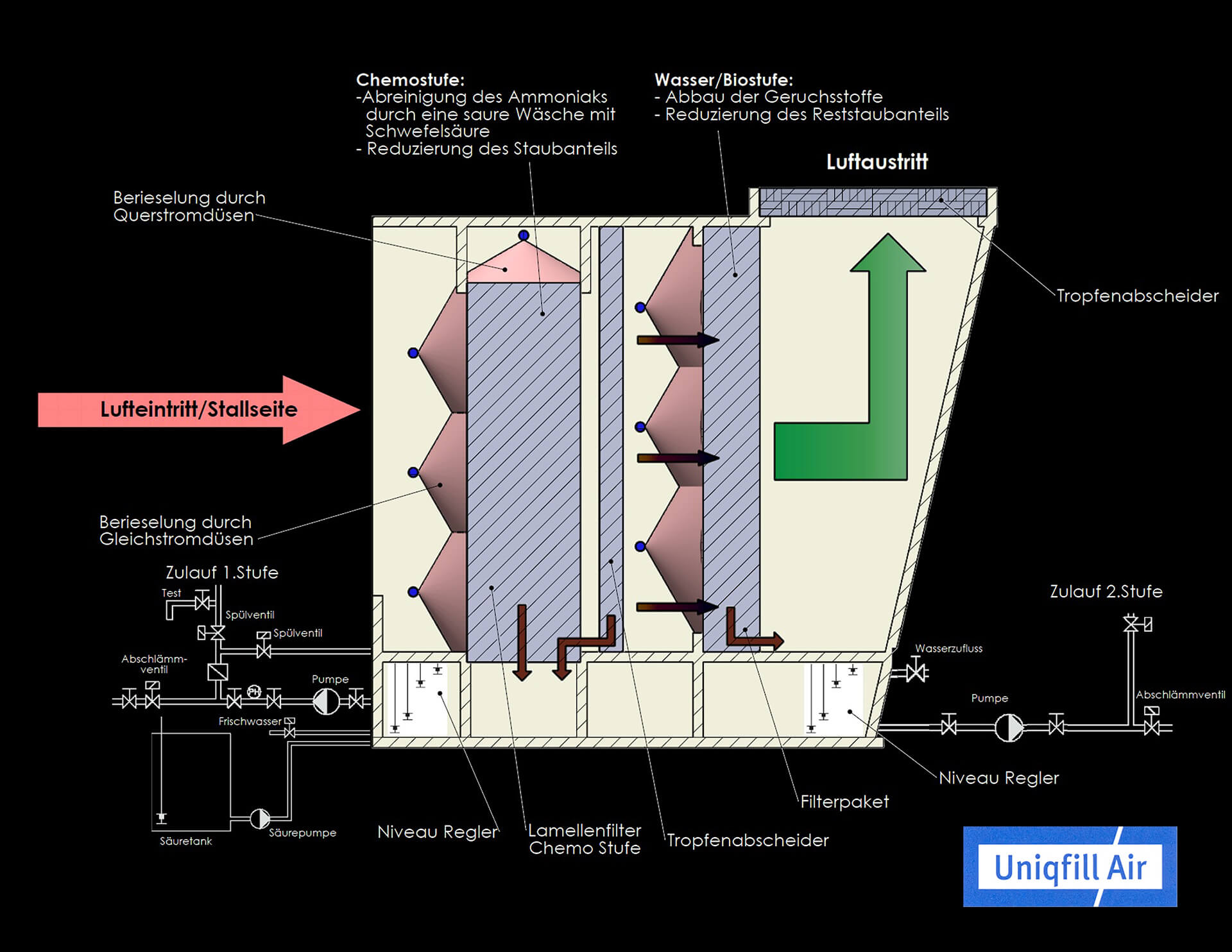 CLEANING PERFORMANCE:
At least 85% ammonia (NH³)
At least 95% dust reduction
Odour minimisation to below 300 GE/m³ and no perceivable raw gas smell in clean gas
Exhaust air scrubber BioCombi 6178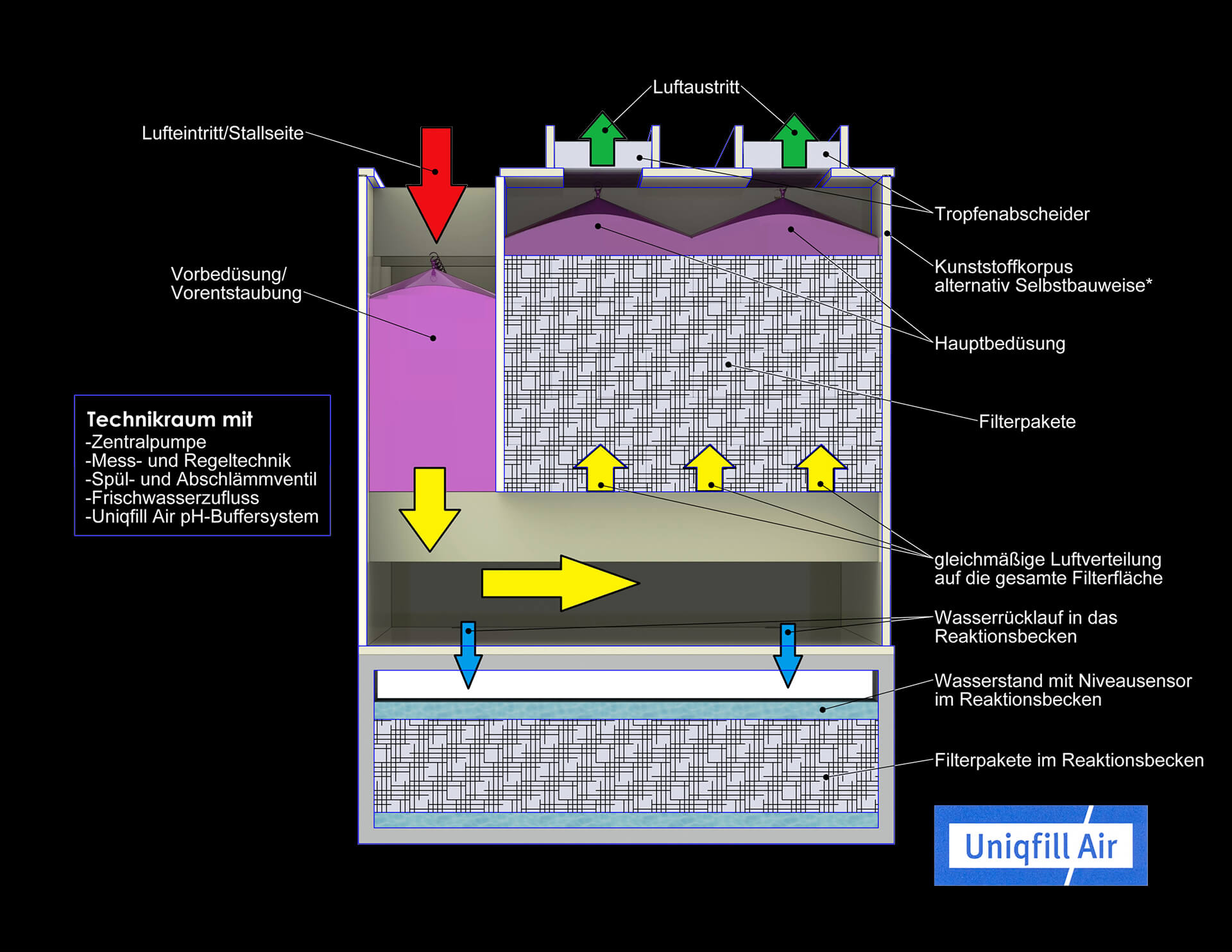 Cleaning performance:
At least 92% ammonia (NH³)
At least 95% dust reduction
Odour minimisation to below 300 GE/m³ and no perceivable raw gas smell in clean gas
Promote the efficiency of your agriculture with intelligent air conditioning systems
Professional air conditioning technology in agricultural animal husbandry includes the control and monitoring of ventilation, heating and humidification systems. We build the foundation for optimal conditions in the animal house with our versatile systems. All functions are, of course, ideally coordinated – for intelligent farm management and better animal welfare.
#1 Ventilation
Depending on the type of animal and the climatic and structural conditions, we offer various supply and exhaust air systems that are individually tailored to your plant. A wide range of functions are available to you to control the air conditioning in pig and poultry houses.
For each compartment or barn, it is possible to evaluate temperatures, humidity, negative pressure, CO² and NH³ content in order to optimally coordinate ventilation, heating, supply air and exhaust air. A climate curve adjusts all parameters to the respective age of the animals.
Our know-how in detail
Fully insulated wall outlet for optimal climate in all climate zones
Exact and optimal air flow in cold weather conditions
Direct supply of fresh air at high ambient temperatures
Constant vacuum for consistent airflow velocity
Easy installation, quick and thorough cleaning and disinfection
Applicable as a wall mounting valve to fit the layer of stones or as a flanged valve, expandable with a mounting frame for any wall thickness
#2 Heating
If you heat optimally, this has a positive influence on the performance of the animals. At the same time, you noticeably increase animal welfare and health. In many geographical areas, heating is indispensable. SCHULZ offers various systems considering optimal energy costs:
Underfloor heating
Open and closed combustion chamber
Warm water convectors
Hot air blower
#3 Cooling
In addition to the feed and watering, for example via our intelligent feeding systems, temperatures play an important role in animal husbandry. Especially on hot summer days, it is important to cool the air in the barn. Benefit from our various air conditioning systems that create optimal temperatures on hot days and thus ensure more animal welfare.
Our know-how in detail
Effective cooling in summer
Pleasant air conditioning in the barn due to dust binding
Fast, thorough cleaning and disinfection
Nebulisation of enzymes
Control of high-pressure systems, pad cooling systems and rotary coolers
Would you like more information about our air purification and air conditioning systems, or would you like to learn more about SCHULZ? Contact us today – we look forward to your enquiry!
We are here for you


Your contact options