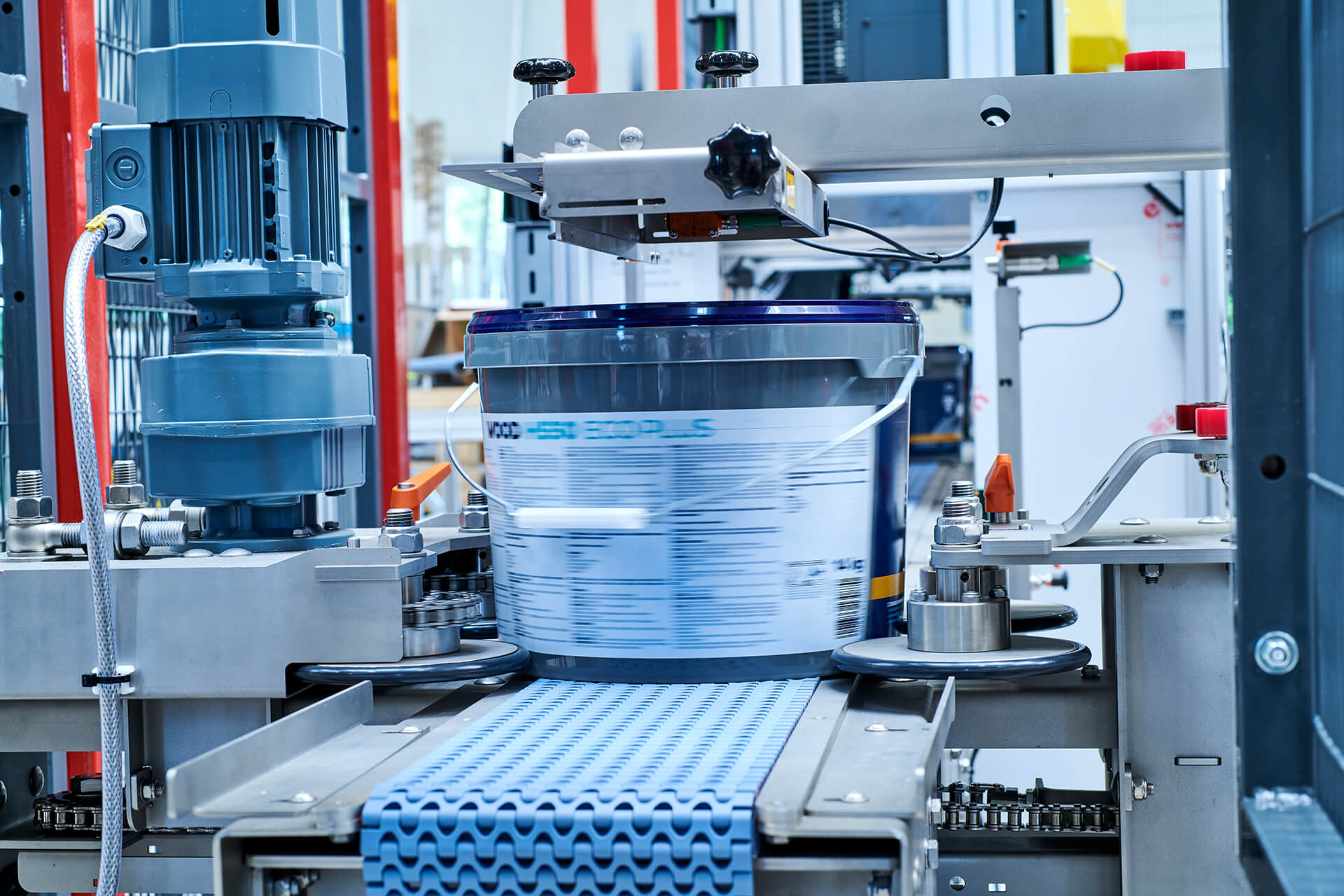 Relieve staff, increase productivity
Flexible palletiser for adhesive buckets
AUTOMATIC CHANGEOVER WHEN CHANGING PRODUCTS
Bostik is a leading global adhesives specialist for construction, consumer and industry. The manufacturer from Borgholzhausen commissioned our experts in special machine construction to develop a new palletising system for adhesive buckets that simplifies handling and reduces the workload of employees.
"In principle, the system can align the adhesive buckets coming from three filling lines onto Euro pallets, stack them and apply separating cardboard to the individual layers," says Lars Heise, the responsible sales representative at our site in Bremen. The pallets are then wrapped and prepared for forklift trucks to transport them out of the production hall. The feeding and alignment of the cardboard and Euro pallets is also automatic.
Bostik has a wide range of products. Adhesive buckets come in three different shapes and 13 sizes each, from four to 21 kilograms. "That's why we designed the technology to be extremely flexible and developed format-free grippers for each bucket shape," explains Lars Heise. This means that the gripper can be changed automatically, which saves a lot of time.
The entire system is equipped with three robots, ten gripping tools, an automatic bonnet shrinker and various conveyor technology. In total, 28 SCHULZ employees participated in the extensive project.
When they designed the system in the Bremen special machine construction branch, they initially worked with sand instead of glue for safety reasons. Because on the one hand, adhesives are often toxic, and on the other hand, they are difficult to remove if they leak. "But with the substitute fabric, we were able to mimic precisely the inertia and weight of the material, and test out all the functions," recalls our sales colleague. "We then carried out the commissioning at the customer's premises ourselves using real products."
The space for the new plant in the production hall was a little tight. "It was a bit like playing Tetris until everything was just right," Lars Heise laughs with a twinkle in his eye. "But thanks to our experience, we were then able to set up the plant perfectly."
The customer himself is also completely satisfied. He was particularly impressed by the customer-oriented further development of the offer concept during the design phase as well as the personal support. And the adhesives specialist also benefits in economic terms. Due to the considerable time saved, the employees are relieved and can devote themselves to other tasks. At the same time, productivity could be increased.
We are here for you


Your contact options