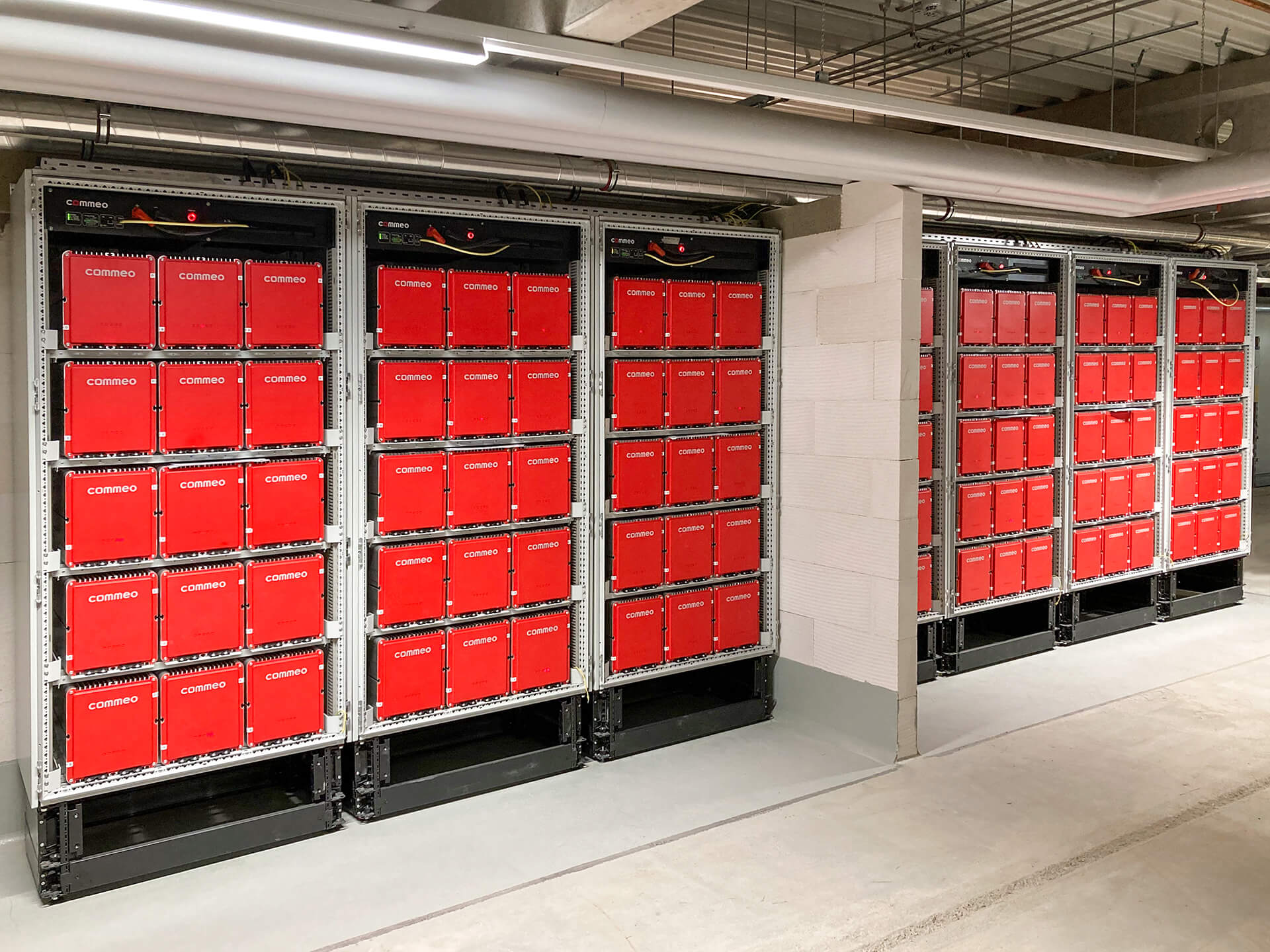 Small storage units with a big effect
Energy efficiency is a top priority at the fruit ripening plant
Clever combination of different energy building blocks
In Borna near Leipzig, EDEKA operates Germany's first CO2 neutral banana ripening plant. Every week, around 50,000 boxes of bananas are ripened there and delivered to storage locations of the food company. The highest ecological standards characterise the farm. A photovoltaic system and a combined heat and power plant cover over 90 percent of the electricity demand. The rest has so far come from the local energy supplier.
In order to minimise energy costs overall, EDEKA has opted for the innovative concept of the Berlin start-up Frequenz Energy-as-a-Service. The banana ripening plant now pays a fixed price for each kilowatt hour to Frequenz, which is significantly cheaper than the market price. In return, the start-up uses the photovoltaic system, the biomass co-generation plant and the entire energy technology for themsevels in order to be able to guarantee the favourable price. Artificial intelligence is also used here, in the form of the EDGE AI microgrid operating system from Frequenz, which controls the system automatically.
"Frequenz cleverly combines the energy building blocks into an integrated system," says Matthias Meyer. He is responsible for the business field of networked energy solutions. To further increase efficiency at the EDEKA site, a battery storage system from Commeo was also installed. This means that electricity from the solar system and CHP unit that is not currently needed can be stored temporarily. We took care of the installation, supply of an intermediate distribution board and the connection to the low-voltage main distribution board. The planning took place at our Wallenhorst site, the control cabinet construction in Visbek and the on-site planning and electrical installation by our colleagues in Doberschütz. "A great supra-regional team performance," Matthias Meyer is pleased to say.
Specifically, this is a 1-megawatt primary control power storage system for feeding into the public grid. With it, Frequenz can open up a new business field and undergoes prequalification for the provision of primary control power. Large-scale battery storage not only contributes to security of supply through the temporal shift of energy storage and provision, but also to the stability of the public electricity grid. Unlike other power plants, they can provide the energy immediately and do not have to be ramped up first. Not only is the energy supplied remunerated, but also the energy held in reserve.
The 1-megawatt system consists of a total of 13 Commeo energy storage cabinets. "Actually, it delivers as much as 1.2 megawatts," explains our energy expert. "For reasons of fail-safety, we have dimensioned the system somewhat higher. In addition, the 13 memories can be controlled individually. If a module fails, the entire system is not immediately affected. In addition, the customer benefits from a more accurate balance sheet breakdown and can therefore accurately allocate energy flows."
Thanks to the good cooperation with SCHULZ, we are now achieving electricity cost savings of around 50 percent in Borna. In addition, our customer is now even more sustainably positioned and can further improve its climate footprint. In concrete terms, this means a 48 percent reduction in grid purchases and an annual CO2 saving of 53 tonnes.

Robert Härtel, VP Business Development at Frequenz
We are here for you


Your contact options