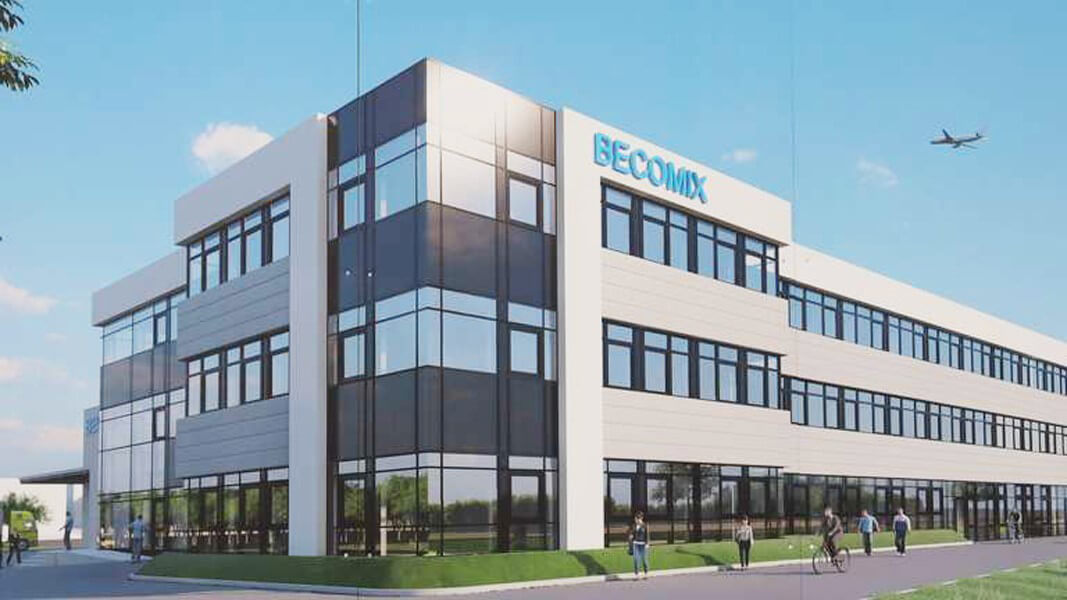 An industrial building that sets standards
With clever security systems against vandalism
Whether skin cream, toothpaste, lipstick or cough syrup – probably every one of us has at least one product from Becomix in their cupboard. The successful medium-sized company based in the municipality of Stuhr is the world's leading supplier of equipment for the production of liquids, creams and pastes for the pharmaceutical, cosmetics and chemical industries.
His clients include well-known global players as well as small and medium-sized enterprises. The order books for the next few years are full. Space is correspondingly tight in the current production areas, so company manager Stephan Berents decided to build a new building in the immediate vicinity of the Brinkum-Nord site.
New production and storage facilities are being built on around 6,500 square metres, with a further 2,500 square metres earmarked for offices, administration and planning – the largest investment in the company's history, according to Berents. We carried out the entire technical building equipment, from the energy supply to high-tech security and fire alarm systems to the project planning of the EDP infrastructure.
The building project is not only demanding in terms of planning due to its direct proximity to the radar tower of Bremen Airport, it is also intended to set high standards in terms of energy, for example through low-temperature heating and a combined heat and power plant. "We are following the guidelines of the German Sustainable Building Council and want to achieve silver certification," says planner and architect Detlev Rohr, whose Bremen office specialises primarily in industrial buildings.
The demands on the electrotechnical requirements, especially for security technology, were correspondingly high. "In commercial areas like these, you have to deal with vandalism and break-ins particularly often, which is why security systems with facial recognition were installed in the outdoor area, for example," says our project manager Carsten Kremer.
In addition to the latest technology, great importance was also attached to a clean look of the cable routing and technology – in the production halls as well as in the heating and sanitary rooms. This is because the company's customers are regular guests at the production facilities.
The time window was the biggest challenge here. "We took on the job in the construction stage because the company originally hired was unable to complete the project successfully," says Kremer. Due to the interim failure of the electrotechnical services, there was a delay of several weeks, which had to be made up. "We had 15 employees on site at times, who wired the 6,500 square metre hall in the shortest possible time." There was not only relief, but also both Managing Director Stephan Berents and the responsible architect and engineering firm were really grateful.
We are here for you


Your contact options