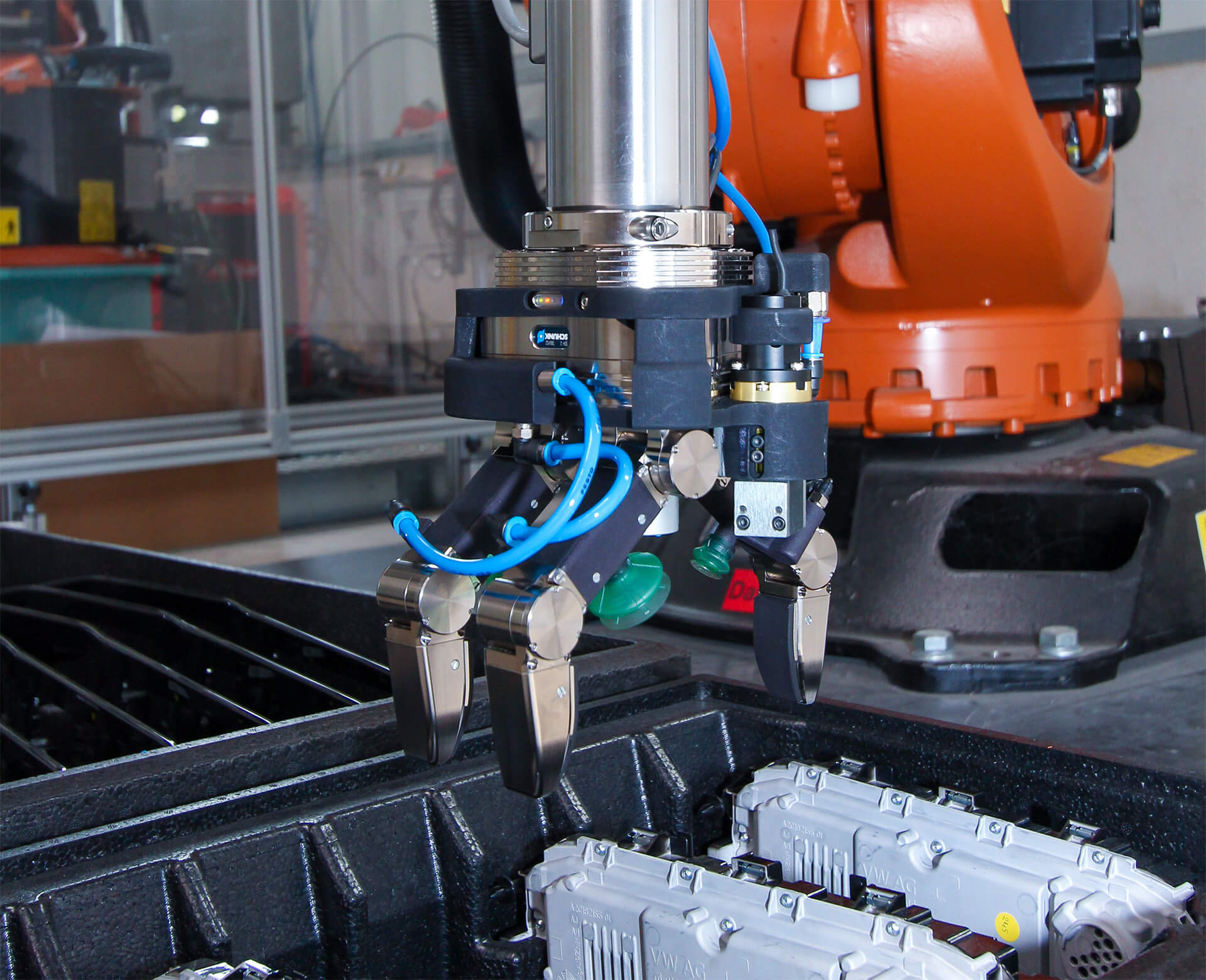 All-rounder with sensitivity
Sophisticated software manages the robot
To use an extremely dexterous multifunctional gripper for various tasks in automotive engineering was the task of our Bremen robotics specialists. The order came from the R&D department of a well-known car manufacturer.
The idea: To use the sensitive gripping tool for assembly activities or logistical tasks. "Although the versatile "hand" was designed for industrial applications, it also had to meet special requirements in the automotive sector," reports Antonio Caiazzo, our robotics team leader at the Bremen site. The tool can be used for many gripping scenarios. It can hold spherical and circular as well as cylindrical and cuboid objects.
Optionally attached sensors can also be used to determine and monitor how sensitive the grip should be. The car manufacturer has also equipped two of the three fingers with additional instruments so that objects can also be suctioned or grasped magnetically. A combination is also conceivable.
We have developed the software concept for optimal use by the robot. There were two alternatives. Either to implement control via the industrial PC supplied or autonomously via the KUKA robot controller. With the first variant, existing software modules could have continued to be used. For reasons of efficiency and in order to remain within the group standard, we decided on the second variant and implemented the entire control via the robot and expanded the KUKA software accordingly.
"The extra effort was worth it. In a specially developed tech package, all functions are included for direct operation and can thus be used on any of the customer's robots," says Antonio. "The operating concept is simpler, the technology is safer and additional hardware is no longer required. This enabled us to simplify the processes and thus increase profitability."
The extra effort was worth it. In a specially developed tech package, all functions are included for direct operation and can thus be used on any of the customer's robots.

Antonio Caiazzo, Team Leader Robotics
We are here for you


Your contact options