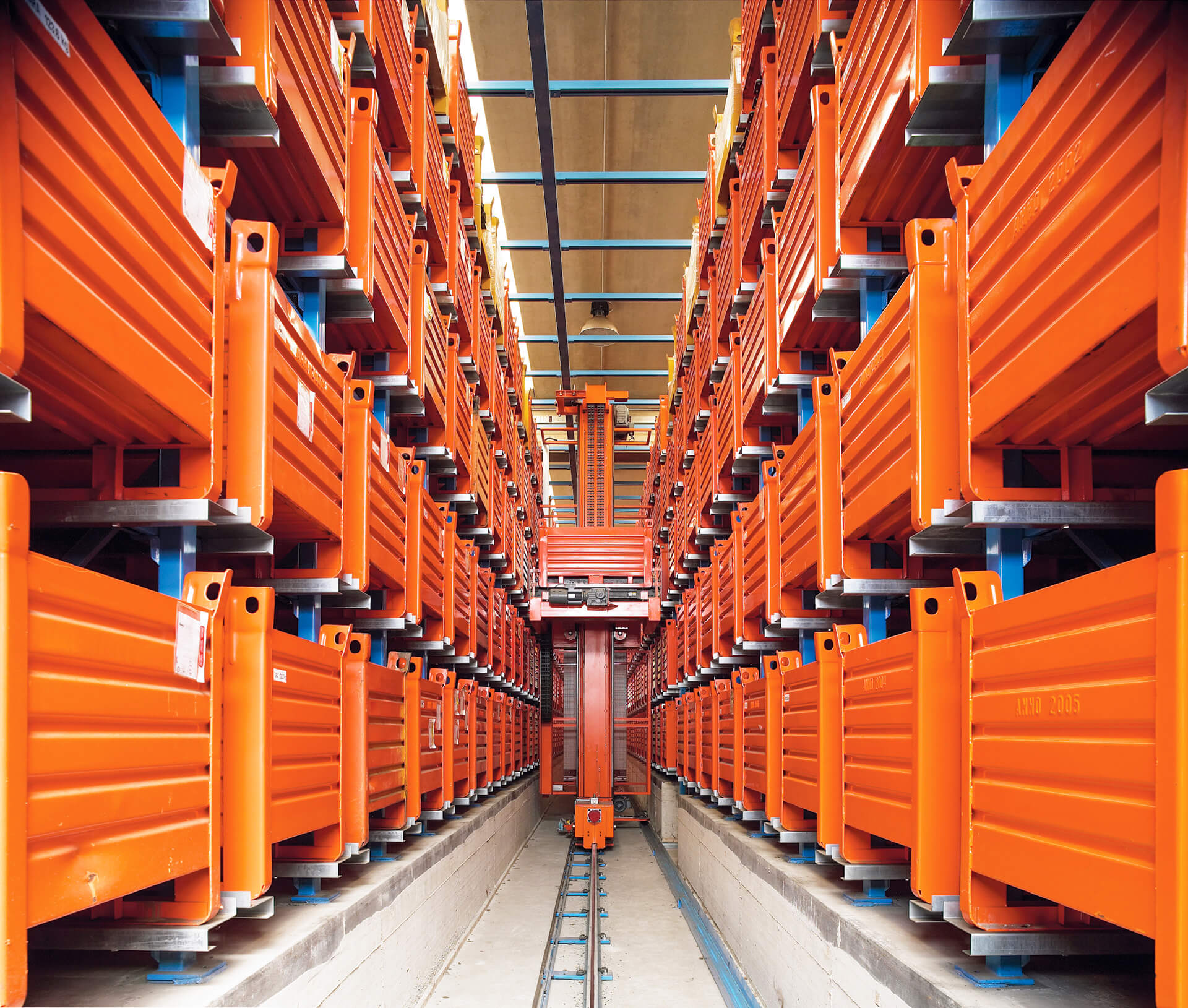 Storage technology
Everything in order: Increase your efficiency with the right storage solution
Exploit the high potential of your intralogistics to its full potential?
With the optimal storage technology, you continuously increase the profitability and efficiency of your production. Therefore, individual counselling tailored to your needs is important.
We supply user-friendly storage technology and integrate it precisely into your company – from manual semi-automatic systems to complex, fully automated storage solutions. So you can look forward to significant savings in logistics.
The right storage technology: More speed in the internal material flow
The precise analysis of material flows is of particular importance. Often the storage system is planned independently of the production environment – a mistake that won't happen to you with us. We develop and optimise your sustainable storage technology so that logistics and production merge and guarantee a smooth, flexible process.
You benefit from our simulation software during planning: This makes it much easier to identify weak points, determine potential for improvement and compare racking systems. We follow the path that the individual components of a product take within your company before they become the final product. This is the only way to find the optimal storage system for you. Thanks to the right storage equipment and conveyor technology, you ultimately benefit from a faster and more precise material flow and an optimised supply chain.
Find the right warehouse management system with SCHULZ
Pallet racking, automatic high-bay warehouse, through-feed shelves, small parts storage or customised mobile made to measure shelf: With us you will find a wide range of storage technology for very different requirements in a wide variety of industries. Use our expertise for your competitive advantage:
#1 Shelf systems
Each storage requires a different approach. Intelligent storage solutions speed up your operations and optimise your space requirements. They increase efficiency and minimise operating costs. We analyse your operational and logistical processes in advance and then offer you the perfect shelf system for you.
Our know-how in detail:
Pallet racks, through-feed shelves, drive-in racks
Shelf racks, large shelves
Intermediate and platform levels
Shuttle
Cloud
Hanging systems
Automated small goods storage
Automated storage pallets
#2 Shelf operating units
Shelf operating units (RBG) play a decisive role in terms of efficiency and performance in high-bay warehouses. They have to be robust, reliable and precise and do their job safely. We supply shelf operating units in a wide variety of designs for many applications.
A special advantage: Thanks to their modular design, they can be expanded easily at any time. The autonomous storage and retrieval and coordinates the interaction of several individual shelf operating units. This way you benefit from maximum flexibility and future-proofing.
As simple as that: An intelligent warehouse management system
The warehouse management system, in short: LVS, is the heart of storage technology. It manages all processes and can completely replicate goods movements. The intelligent tool shows the warehouse setup transparently and is able to display any number of warehouses.
During storage, the system not only suggests a suitable place, but also guides the specialist directly to the appropriate location. This not only saves you considerable operating costs, but also maximises the efficiency of warehousing and production at the same time. The simple handling and mobile operation also increase the motivation of your employees.
Contact us now and optimise your storage technology with us. We look forward to your enquiry!
We are here for you


Your contact options