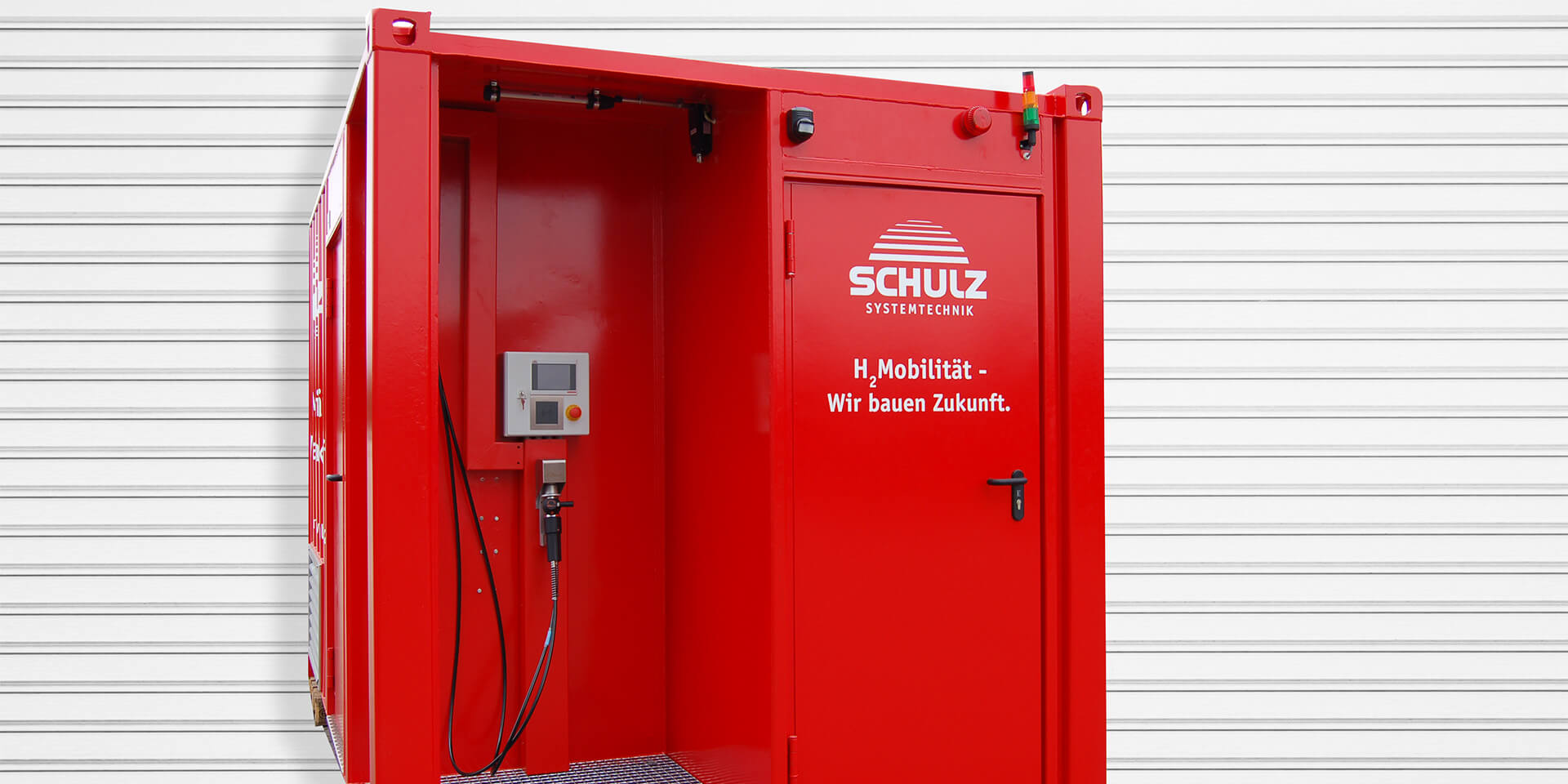 Hydrogen filling stations
Because they pay off for you in the long term
Make hydrogen mobility a building block for your energy transition
We are already using the technologies of tomorrow and are expanding your infrastructure accordingly for the energy transition – with our hydrogen filling stations. Then the fuel cells in your commercial vehicles can convert the environmentally friendly hydrogen directly into electrical energy – so that you can benefit from the hydrogen mobility gained several times over.
This is why the hydrogen infrastructure is worthwhile for you
More range, more power and a shorter refuelling process for cars and trucks in your vehicle fleet – you benefit several times over from increasing hydrogen mobility, also in comparison to e-cars. This is because the space required for batteries in hydrogen-powered vehicles is also smaller. This makes hydrogen filling stations an absolutely worthwhile infrastructure and a permanently effective solution for the energy transition.
Add to that: Surplus electricity from renewable energies can be easily stored and used later if required. We have this in mind and take care of everything – in other words, the complete infrastructure for your mobility – including, of course, a hydrogen filling station.
The hydrogen filling station – perfectly optimised to your needs
We build your hydrogen filling station – with everything that goes with it. You receive solutions that are perfectly tailored to you – fitting your personal needs perfectly. From planning and project management to implementation. You decide whether you want to produce the hydrogen yourself locally or whether you prefer to purchase it. Both options are possible.
OUR SERVICES FOR HYDROGEN MOBILITY
Your hydrogen filling station: We take care of everything
For hydrogen refuelling, what counts is not only the optimal realisation of the hydrogen filling station, but also an efficient billing and management system. Here, too, we have various models available. Either for internal user administration and allocation of refuelling costs to individual cost units such as commercial vehicles, persons or departments, or also for administration, payment and billing at public hydrogen filling stations.
In this way, you receive your filling station ready to use and at the same time fulfil all customer-specific requirements down to the last detail. You also benefit from an individual system design, fast project realisation and complete control and monitoring – this includes the visualisation of the station as well as access to all operating data and possible fault messages.
Efficient, integrated and greener – we take you forward in hydrogen mobility
Parallel to the e-charging infrastructure, hydrogen filling stations are an essential component of our solutions for you and the energy transition. We provide you with integrated energy solutions: from the supply through renewable energies to transformer stations and battery storage to energy management. Because only the intelligent combination of all components creates an efficient system.
We offer our individual turnkey solutions from a single source – from the application, delivery and installation of the complete system, including the billing system, to maintenance and service. In detail we take care of:
Detailed advice and planning down to the last detail
The application to the energy supplier
The supply and installation of medium-voltage and low-voltage systems, transformer stations
Civil engineering, collision protection and car park markings
Green power generation through photovoltaics and hydrogen
Battery storage
IT solutions and network technology
Backend solutions and billing systems
Service & support, maintenance and troubleshooting – 24/7
We supply your hydrogen filling station – and you benefit sustainably
You receive the complete hydrogen filling station from us, turnkey with everything that goes with it. From the foundation and earthworks through the generation of hydrogen and the hydrogen storage facility to precisely tailored billing systems and IT solutions.
You win – through time-saving implementation, high operational reliability and more flexibility. Get in touch today and we'll drive your hydrogen mobility forward.
REFERENCES FROM ENERGY AND ENVIRONMENTAL TECHNOLOGY
We are here for you


Your contact options