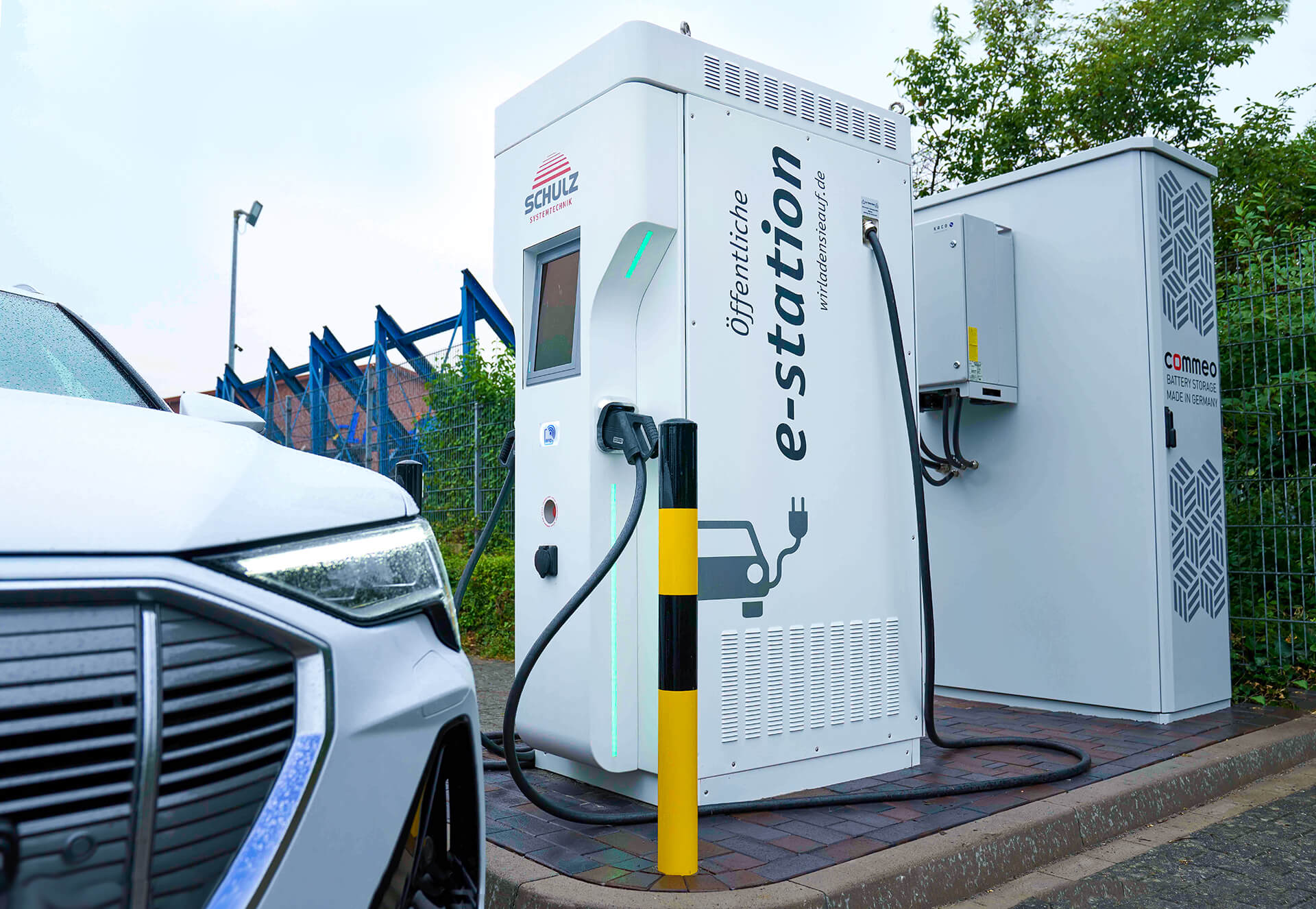 Efficient electromobility
Sustainable charging infrastructure for your company
How to reduce the operating costs of your fleet
The number of electric cars and plug-in hybrids in road traffic is continuously increasing, which is certainly also the result of government subsidies. E-cars have been booming in commercial fleets for a while now. A fleet of electric vehicles incurs significantly lower operating and maintenance costs because fewer wear parts are installed. Moreover, electromobility is an important building block on the road to climate neutrality.
We know the situation and know what potential these developments mean for you. That is why we implement the entire charging infrastructure for your company – from the application to the delivery and installation of the complete system, including the billing system, maintenance and service.
We analyse your service life precisely and deliver custom-fit solutions for electromobility
In order to be able to assess how many charging points you need for your fleet of electric vehicles and what power the charging stations should provide, it is important to take a close look at the parking times in addition to the size of the vehicle fleet. Only then will you see the need for alternating current (AC) charging points or fast charging points (DC).
A combination is also often worthwhile, at best with a charging or energy management system. This means there is always enough power available and your charging solution remains future-proof and scalable. Because only one thing is certain: The increasing expansion of the public charging network, ever greater ranges, shorter charging times and, above all, the falling costs of electric vehicles will continue to fuel demand. Better equip your charging infrastructure for your company now.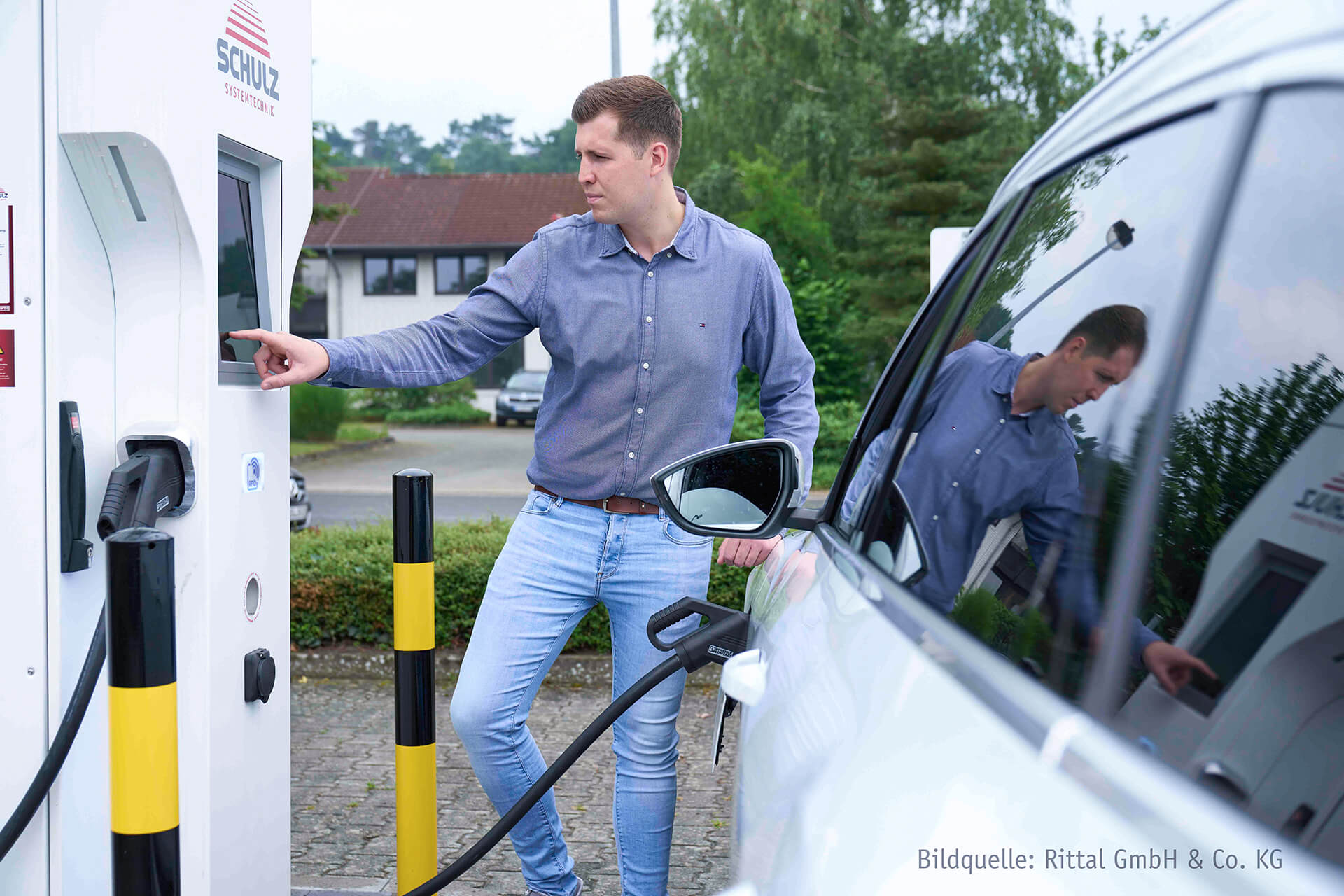 Finally independent of the public grid? We build the charging infrastructure for your company
We implement charging solutions for a wide range of users, such as production companies, retailers, car park operators and delivery services. They all receive personalised complete solutions: From connection to the public grid, to power generation through photovoltaics or other renewable energies, to battery storage and energy management systems.
E-mobility is particularly sustainable when the used electricity is delivered from renewable energies. Moreover, self-generated electricity is significantly cheaper than electricity from the public grid. The combination also helps to optimise the charging profile and avoid expensive power peaks. It makes you also independent from fluctuating electricity and fuel prices.
OUR SERVICES FOR THE CHARGING INFRASTRUCTURE
We ensure efficient charging and seamless billing
The charging infrastructure for your company is made up of many building blocks. But it is the intelligent combination that creates an efficient system. We support you with our expertise. The charging infrastructure also includes an efficient billing system.
Either for your internal user administration and allocation of charging costs to individual cost units such as vehicles, people or departments, or also for administration, payment and billing at publicly accessible e-charging stations.
This is how you can secure your funding easily and hassle-free
If you invest as a company in the field of electromobility, there are many interesting investments available to you. On the one hand, the state waives the vehicle tax for e-cars and subsidises their purchase; on the other hand, there are different funding options at federal, state and European level.
The financial aid is particularly high if renewable energies are used to generate electricity. We work here with the Leer-based company fidelus Consulting, which specialises in investment projects. This way, you are guaranteed not to miss out on any possible financing. There are no risks either, as fidelus Consulting only works on a performance-based basis.
Our services for your charging infrastructure and more e-mobility at a glance
We offer you:
A comprehensive portfolio of electric charging stations, from wallboxes to fast chargers
Advice and planning from a single source
The application to the energy supplier
The supply and installation of medium-voltage systems, low-voltage systems and transformer stations
Green power generation through solar energy
IT solutions and network technology
Billing systems
Competent service & support that thinks along with you
REFERENCES FROM ENERGY AND ENVIRONMENTAL TECHNOLOGY
We are here for you


Your contact options