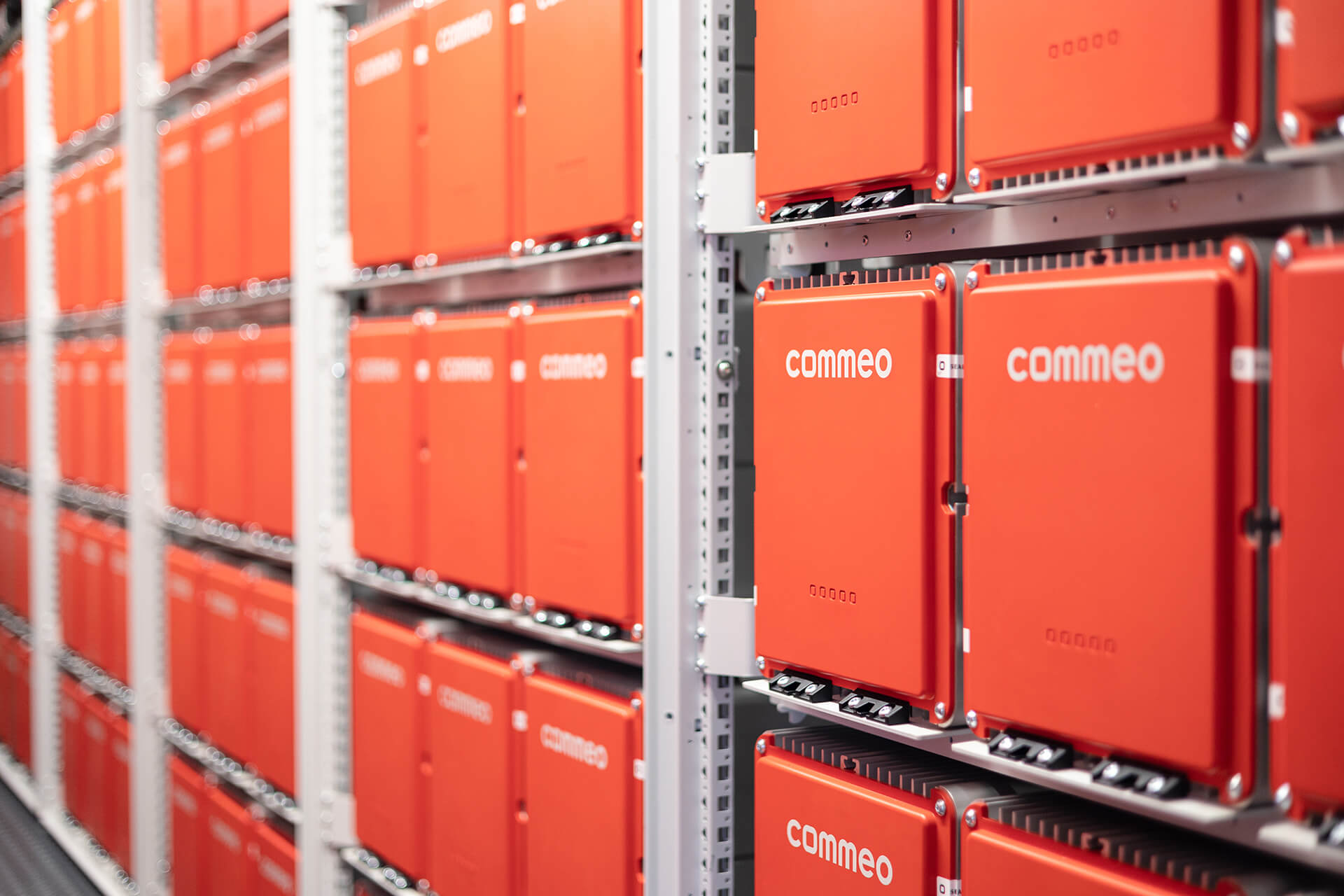 Smart battery storage with a system
How we build your sustainable power supply of the future
How to say goodbye to voltage dips and failures in the power grid
Unpredictable power outages and voltage dips often lead to costly production losses, downtime and damage to production equipment. But we will change that for you.
With our energy storage solutions, we reliably protect you from such costly events. Battery storage systems and photovoltaics are an ideal combination. Solar power in combination with intelligent storage systems is the future. Get in now and learn more about the innovative solutions for your business.
We supply customised storage systems for your needs
We are only satisfied with the best energy storage solution for you, which is why we use the high-quality storage systems from the technology leader Commeo from Wallenhorst. The lithium-ion-based storage systems are specially developed for custom-made industrial and commercial applications. They guarantee an uninterrupted power supply. This applies to production, telecommunications, IT and data centres, in the field of renewable energies or electromobility.
With this extremely flexible system, we can therefore always provide you with customised and reliable storage capacity – in exactly the right dimension for your business.
With our emergency power supply, you always stay connected to the power grid and avoid expensive production downtimes
We provide a non-interruptible power supply (UPS) for all your processes in the company. In this way, we effectively prevent expensive production losses or even, in the worst case, the destruction of entire production batches. This makes the emergency power supply one of the most important infrastructure facilities of your production plants.
But a power outage causes significant revenue losses in many other sectors as well – from hotels and restaurants to data centres, from retail to the service industry. Our battery storage systems prevent this from happening, protecting your plant from damage and avoiding downtime. We offer you a whole range of services for this purpose:
A design of the storage systems and capacities exactly to measure
Everything is modular and can be expanded at any time
Combination with energy management systems
Project planning, support and maintenance – all in one
Transparent monitoring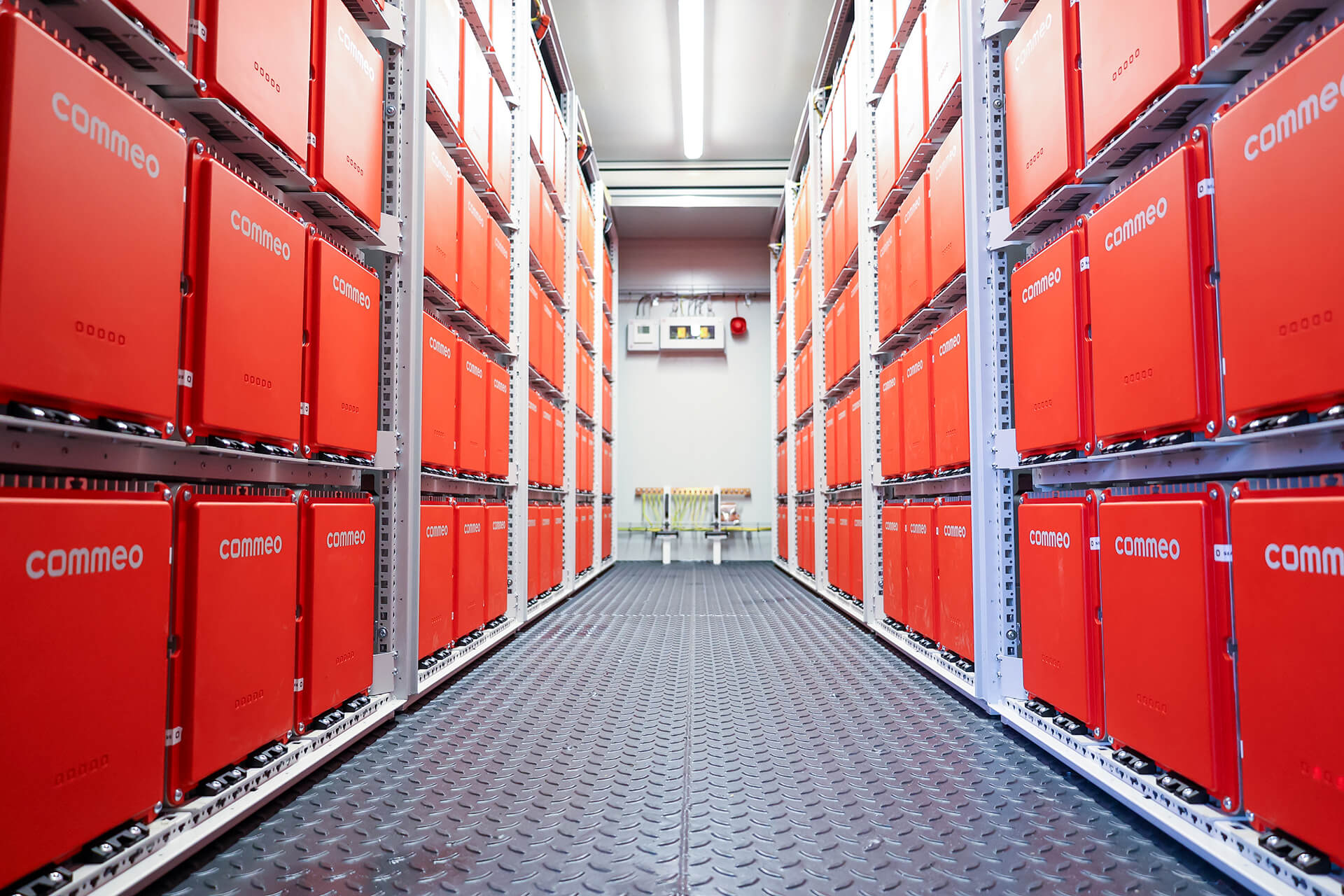 OUR SERVICES FOR BATTERY STORAGE
Long-term savings through intelligent peak load management (peak shaving)
Temporary power peaks when consuming electricity cost your company a lot of money. But we have an efficient solution for that: Our intelligent battery storage systems that optimise your energy needs.
Our energy storage solutions support during periods of high consumption with electricity from the storage systems and thus prevent peak loads. This relief in turn has a positive effect on your performance price. Our lithium-ion-based battery storage systems can be precisely tailored to your energy requirements. This will save you unnecessary costs in the long term.
We combine battery storage systems with photovoltaics and increase your connected load
Do you want to increase your connected load? However, this is not economical or only associated with an expensive retrofit? Here, battery storage systems are a high-quality alternative that pays off. For example, to support a photovoltaic or wind power system in generating electricity for own consumption.
Especially in combination with photovoltaics and other renewable energy sources, our battery storage systems stand out because they can temporarily store the generated electricity even if it is not needed until later.
Battery storage systems, photovoltaics and more – all from a single source
Take advantage of our concentrated expertise in the field of energy storage solutions and photovoltaic planning to secure your power supply permanently and thus save unnecessary costs. We can also support you with our know-how in the area of charging infrastructure or energy distribution and set up your business more effectively.
REFERENCES FROM ENERGY AND ENVIRONMENTAL TECHNOLOGY
We are here for you


Your contact options