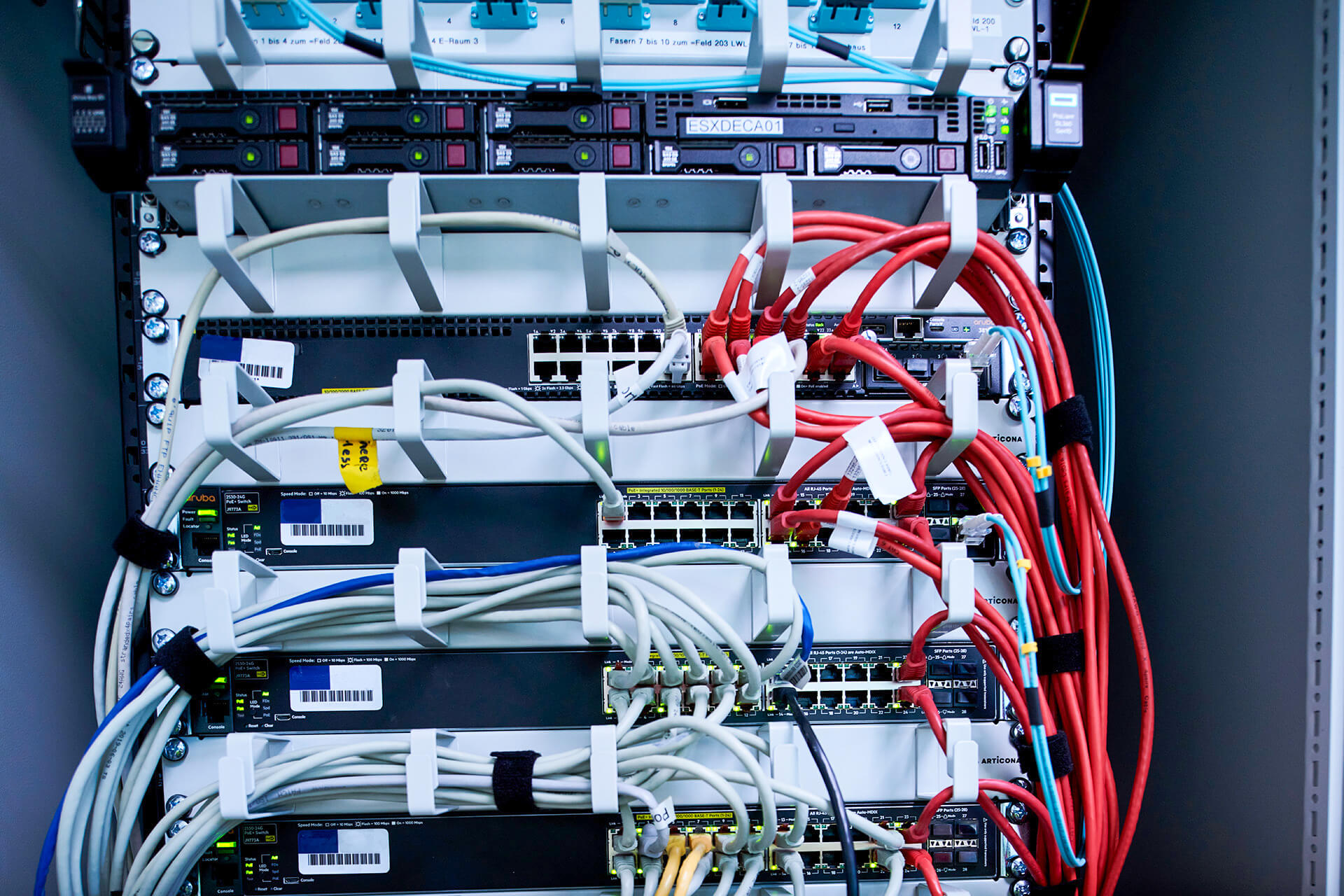 Network Technology
Faster, stronger and safer: Your new data centre – from the construction to maintenance
How to create a powerful IT infrastructure
If you want to continue to grow as a company, you depend on an organised, secure and high-performance IT infrastructure. We know this and deliver contemporary solutions for you – perfectly adapted to the age of digitalisation and networking.
We offer you a comprehensive range of state-of-the-art network components and have many years of experience in this highly sensitive security area. This is how we implement your complete data centre: From construction, non-interruptible power supply and IT server cabinets to the optimal climate for the data centres.
We take care of the data centre, construction and infrastructure
Today, your ability to work stands and falls with a reliable and well-functioning IT infrastructure. We implement secure, highly available and redundant systems that guarantee a reliable connection between your different locations, branches or even with customers and suppliers.
When building your data centre, we use the latest, energy-saving technologies – combined with pioneering building technology. Your IT is thus protected against failures due to water, fire, smoke gases or other disasters.
We supply you with non-interruptible power supply (UPS) for the server room
Even a short power failure in the area of process control or IT can cause very high costs. For this reason, a non-interruptible power supply in the area of IT infrastructure is invaluable to you. We protect your technology from failures and set up redundant systems. You can benefit from guaranteed availability of your technology and minimise costly downtimes – for example in production. Experience shows: UPS systems pay for themselves in a very short time, often after just one bridged power failure.
Our services for network technology
Network installation: We do it for you
Worldwide, the demand for bandwidth for fast internet, communication and IP applications is growing. In your company, too, the working world depends decisively on modern communication and the optimal exchange of data.
To ensure high-performance, stable and secure networks with high bandwidth, we rely primarily on modern fibre optic technology. We have specialised in this highly sensitive technology – from connection technology to measurement technology and network maintenance. When you connect to the grid, you therefore benefit from the following services:
The construction of high-performance fibre optic networks (optical fibres)
Structured cabling with CAT 7
Innovative measurement technology for monitoring and maintenance of the networks
State-of-the-art fibre optic splicing technology
The customised server room for your company
We offer you systems optimally tailored to your needs for accommodating your network and server technology. Our IT server cabinets are robust, highly resilient and enable structured cable management for use as individual distributors or in data centres.
The cabinets bring flexibility and are designed for tool-free, easy interior installation. In addition, we have the right equipment for every climate concept: Whether refrigerant or water-based cooling, whether ventilated doors or room air conditioning. The ideal equipment for your server infrastructure.
The complete data centre construction from a single source
You know how fast-moving the digital age is – so better get in touch with us today. Take advantage of our expertise in network and security technology and secure a high-performance IT infrastructure for the growth of your company.
References from building technology
We are here for you


Your contact options