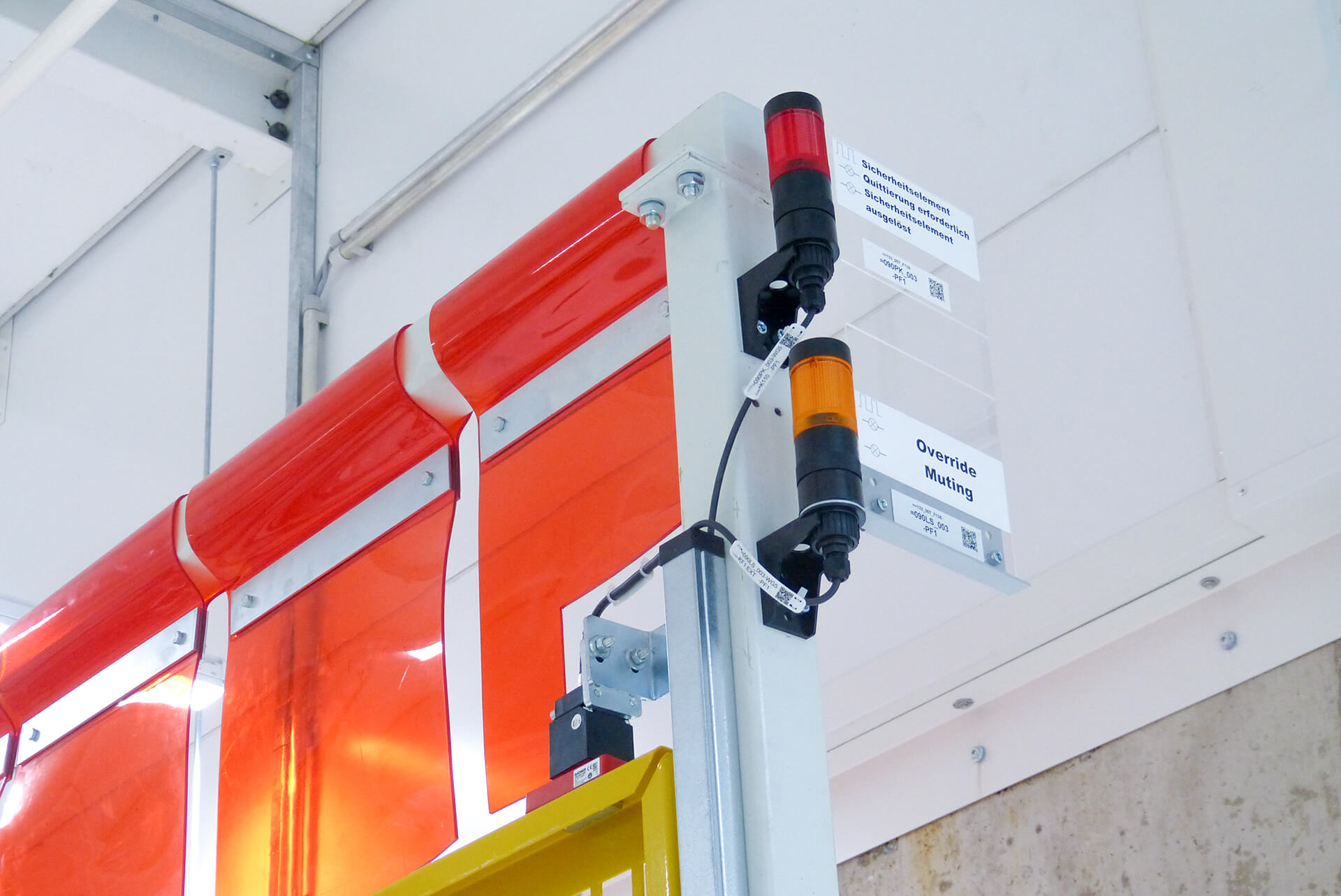 Production infrastructure in automotive engineerin
How we drive manufacturing forward sustainably
Get the most out of your manufacturing environment
We at SCHULZ Systemtechnik are the professionals for setting up and securing a sustainable production infrastructure. Rely on our integrated know-how when it comes to the automation of production and assembly systems, conveyor technology, handling and testing systems as well as energy supply and distribution.
We are thus making an important contribution to the manufacturing infrastructure. In doing so, we always have the future in mind. Because at the moment the entire industry is in a state of upheaval. Three technological trends are shaping the change in particular: Electrification, digitalisation and automation. This changes manufacturing processes and production techniques considerably.
We make the production infrastructure more flexible
Flexibility is more in demand than ever in the automotive industry, as you continue to produce conventional drives on the way to exclusively all-electric forms of propulsion. This is why models with different drive systems today often share the same production infrastructure. Smart products in cars also require significantly more flexibility in manufacturing.
Our experts are prepared for this and develop appropriate solutions.
How we sustainably secure your production technology and technical equipment
Of course, you can also count on us to ensure smooth operation. Our know-how at a glance:
#1 Highest plant safety: Safe area delimitation and shutdown
In the case of technical production equipment, single-channel disconnection via limit switches is not sufficient to limit hazards and risks if this results in a significant risk due to introduced forces or crushing hazards. According to the currently valid Machinery Directive MRL-2006-42-EC, a risk assessment of the machine or system must be carried out by the manufacturer (installer or operator). This often results in high demands on the control technology, with which the identified risks are to be safely minimised. Benefit from our solution. We have developed the tamper-proof area limit switch (MBE-2) for safe area delimitation and shutdown of production facilities. We have several versions available. All meet the highest capability level for control technology components with safety function (performance level "e"). Suitable adapters for all common handling device systems are available on request.
#2 SCHULZ Crane Systems: Efficient and safe material transport
When heavy loads have to be moved from A to B, they come into play: Crane systems. They guarantee that goods of all kinds can be lifted easily and quickly, transported gently and set down precisely.
This makes them indispensable helpers in many working environments, for logistical processes relieving the employees. Whether at assembly sites, processing machines, loading points or in open spaces. Extremely flexible in use, they can be installed in virtually any location – for loads from 80 to 10,000 kg. Many car manufacturers rely on SCHULZ Crane Systems' technology , which is suitable for numerous industrial sectors.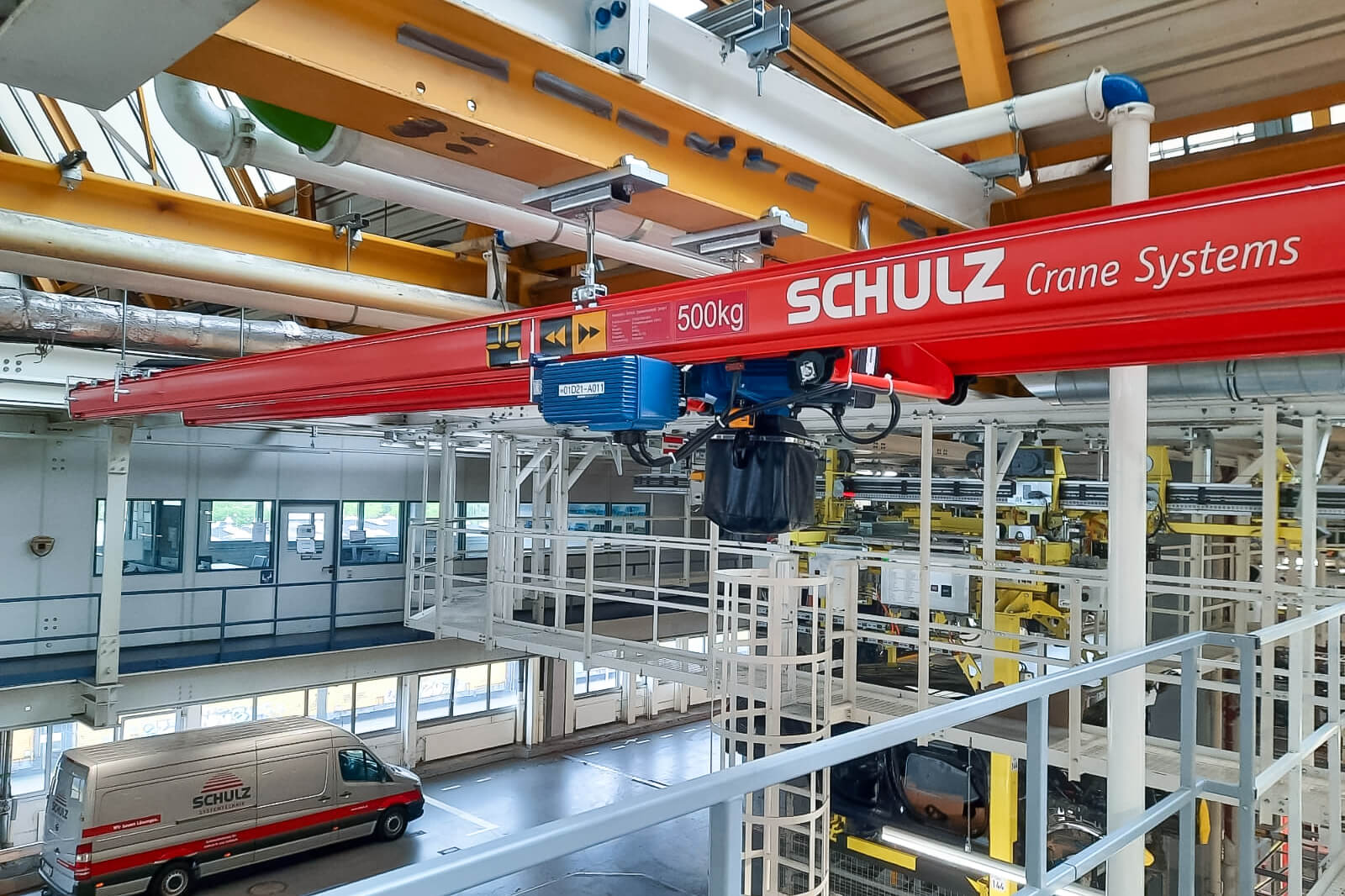 There are many applications for their use. All in all: SCHULZ Crane Systems make work processes more effective, easier, faster and safer. We work together with Demag, one of the world's leading crane manufacturers.
#3 PORTY (CHARGING CABINETS) for your tools: well stored and ready to go
Benefit from our porty (charging) cabinets in the field of production. This is the perfect place for workers to store their hand tools. They can also conveniently charge their battery-powered devices in the burglar-proof cabinets. Depending on your requirements, we can also equip the porty (charging) cabinets with a cabinet ventilation system. This is how you ensure correct storage. An optionally installed fire detector also enables a connection to the plant fire brigade.
#4 Automatic wheel wrench system: Safe and efficient assembly
Our fully automatic wheel wrench system makes production technology in final assembly more efficient. Found in automotive plants across Europe, it ensures safe, smooth and fast wheel assembly. It is not only the efficiency that is convincing, but also the space-saving, compact design. As a general contractor, we implement the complete turnkey plant and integrate it precisely into your production process. From mechanical design with smart digital factory planning tools to plant engineering, programming and commissioning. The plant software documents all bolting processes in detail and ensures quality. We also take care of the prescribed certification of the safety-relevant plant engineering.
#5 Robot programming made easy
Are you looking for support in programming your robots for various automotive applications? Take advantage of our extensive range of seminars. Your employees receive practical knowledge in the use of innovative robot technology. Our qualification offer is modular – participants can acquire competences in technologies and interfaces according to their needs. The focus of our training courses and seminars is on the practical use of robotics. Benefit from the ideal environment of our training centre. Equipped with state-of-the-art robotic cells, it is directly adjacent to the pilot plant and forms the perfect interface to practice. We also offer in-house training and company seminars on request.
OUR SERVICES FOR THE INFRASTRUCTURE
Maximise efficiency in automotive engineering with new digital standards
Benefit from the competence and experience of our experts in the introduction of new globally valid technology standardsfor the automotive industry of tomorrow – with a completely digital automotive production. We master the automation standards that apply in the automotive industry, such as Integra or VASS, and develop them further. This way, we can perfectly support you in the digital transformation of the global production network. The path from combustion engines to purely electrically driven vehicles means drastic changes for you across all locations, associated with considerable costs. Therefore, build on maximum efficiency, flexibility and sustainability through digitalisation.
We accompany you during the transformation. This saves you a lot of time in the implementation of your projects, there are fewer interfaces and you benefit from greater data transparency thanks to a uniform database. Rely on the know-how of our experts in the development, testing and implementation of pioneering software applications andstart the new digital-electrical era with us.
You see: SCHULZ Systemtechnik builds solutions for setting up, securing and supplementing your production infrastructure and relies on smart technologies to do so. Do you have any questions? Then contact us today.
REFERENCES FROM THE AUTOMOTIVE INDUSTRY
We are here for you


Your contact options