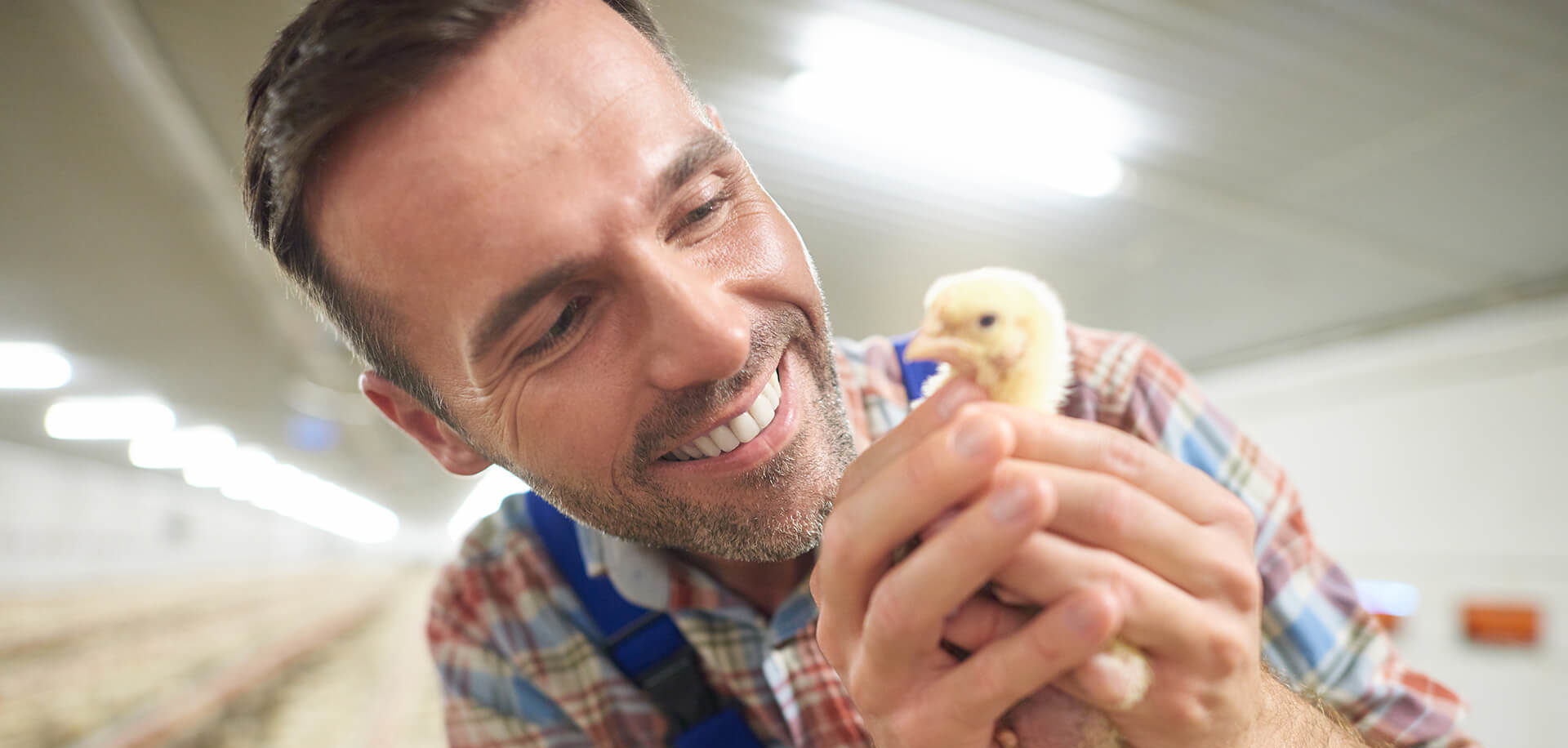 Barn equipment for poultry farming
With optimal technology you can improve animal welfare and results
Make barn management a breezewith smart tools
Profitability, energy efficiency and environmental awareness play a decisive role in professional poultry farming. The well-being of the animals is always your top priority. Therefore, you can rely on our many years of know-how as an international barn equipment supplier and full-range provider for agricultural animal farming.
Our competent team plans your poultry barns. From conception to implementation and service. Intelligent technology makes barn management child's play.
Take advantage of our expertise: Whether for keeping laying hens, fattening of chickens or turkeys, rearing of ducks or the hatchery. You can choose any type of farming: organic or conventional. We know ourselves and have the right concepts for you, perfectly tailored to you.
How you can benefit from good planning of your poultry farms
Good planning of your poultry barn system is crucial to making a farm project successful and economical. No matter whether it's a new barn or the conversion of an existing one. Rely on the know-how of our experts in poultry farming.
Through thorough, well thought-out planning, they ensure that your animals are optimally cared for, where operating costs are minimised and the investment in the project will be worthwhile. We take care of everything: From the selection of the location, regulations, guidelines and local requirements to the size of the barn and the desired type of housing as well as the costs for construction, operation and maintenance of the barn. Criteria that will have an impact on the success of your poultry business.
OUR SERVICES FOR PROFESSIONAL ANIMAL FARMING
Barn equipment and management for the poultry industry: Our range of services
We supply complete animal barn equipment for professional poultry farming. From the housing, barn ventilation and feeding and watering systems to barn management and environmental technology: We offer an extensive product range for every type of husbandry. This way, your animals are well looked after at all times. Our systems are optimally coordinated to create the best conditions for you to achieve profitable results.
Our know-how in detail:
#1 Rearing and Parenting
We have the right concept for economical breeder management. Our systems promote the well-being of the hens as well as a pleasant environment for the animals for laying their eggs. The nest mats are cleaned daily, a perforated band at the back takes care of the transport of the eggs.
#2 Hatchery
We look back on decades of experience in automation technology. Therefore, we also have extensive know-how in the equipment of hatchery establishments. Contact us – we will take care of the conceptual design, engineering and technical equipment for you.
#3 Broiler fattening
Create the basis for the best possible barn conditions, healthy animal growth and optimal farm results with us. Individual detailed solutions or complex large-scale projects: We take over the optimisation of your barn equipment including barn ventilation and management of your broiler fattening.
#4 Laying hens
We offer housing for aviary management, free-range keeping, organic keeping and small group management of laying hens. All systems comply with the applicable CAT and EU regulations. Our solid designs and high-quality workmanship guarantee durability and high profitability.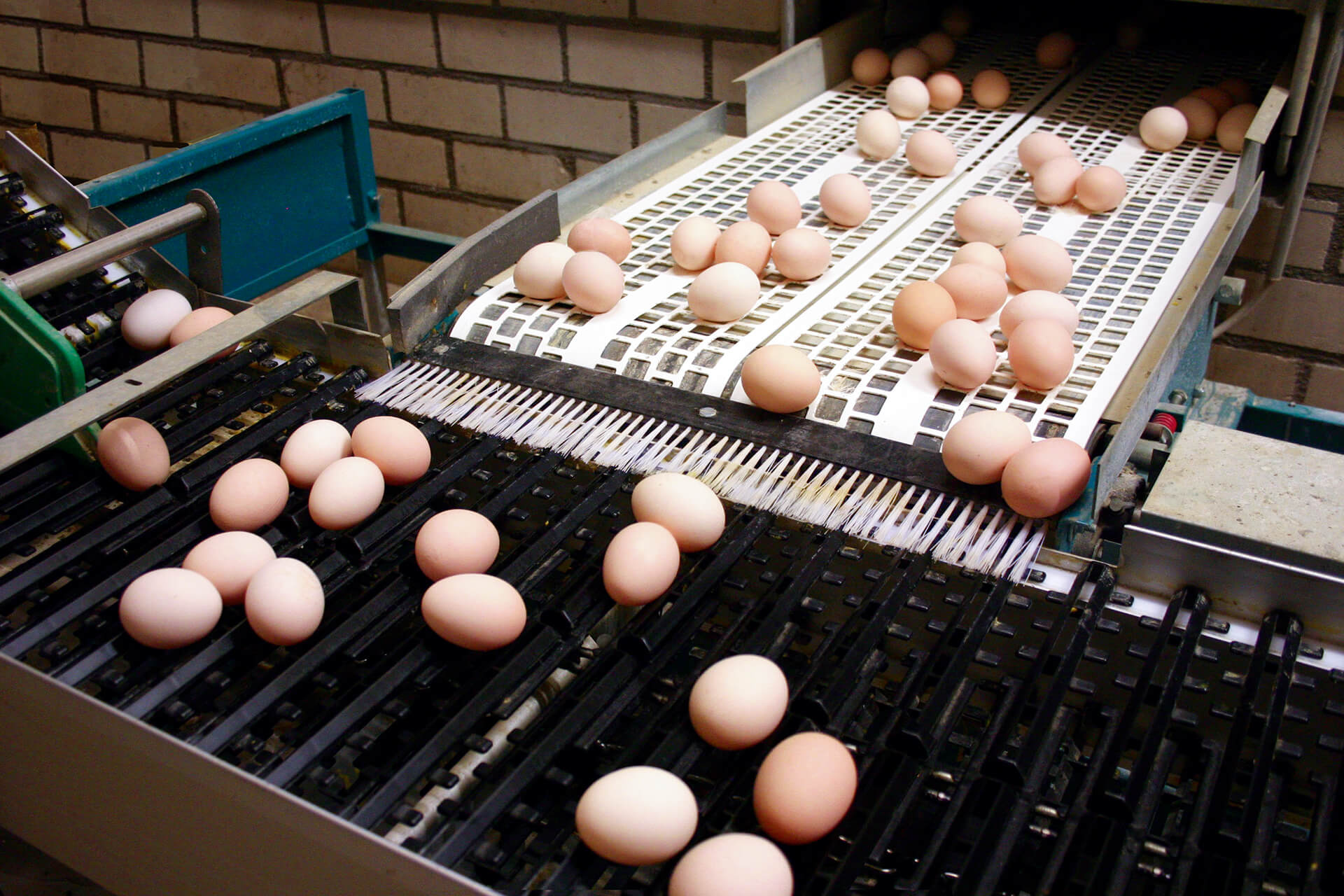 As a complete supplier for agricultural animal farming, we undertake your entire equipping ranging from: the water supply to feeding systems to automatic egg collection. In addition, we offer seat and approach poles, integrated laying nests, manure removal and smart ventilation systems for fresh air in the barn at all times.
#5 Ducks
We are also your competent partner for duck breeding. Make the right housing system with us and optimise your barn system.
#6 Turkey fattening
For the rearing and fattening of turkeys, we offer the complete range of services, i.e. air conditioning, feeding, watering, illumination, heating, electrical and safety technology and waste air purification. In this way, you reliably ensure animal health in the barn and strengthen your profitability at the same time.
Would you like to learn more about our complete solutions for efficient systems in poultry barns or automated barn management? We would also be happy to inform you about optimal air purification and air conditioning systems for poultry farming. Do not hesitate and contact us today – we look forward to your call.
REFERENCES IN THE AGRICULTURAL SECTOR
We are here for you


Your contact options